Over the past year, I have written dozens of articles about VOC, otherwise known in the business world as "Voice of Customer." I share why getting VOC is important, sources of VOC measurement, and best practices to drive company success. I am passionate about this topic because I know that Customer Experience (CX) provides a competitive advantage.
It's not a hunch. It's a fact! Today, however, I am writing about VOC from a different perspective. I am speaking as "Voice of Citizen."
My husband and I just completed the "Citizens Police Academy," an invaluable 10-week program designed to give participants an understanding and appreciation of what law enforcement entails. We spent 18 hours with experts across different departments such as Detective Bureau, Weapons, Patrol, Traffic, Dispatch, Community Policing, Auxiliary and more.
The Importance of VOC Feedback
One of the most memorable evenings was with our impressive ESU (SWAT) team, who demonstrated how they handle an active shooter situation. I could write a book on this topic alone. Being in the Customer Experience (CX) field, I loved how each class allowed participants to give feedback to the officers, voice concerns and ask questions of which our class had so many. In fact, we ran overtime every week, and the officers were kind enough to stay late to ensure no one left without questions unanswered.

Reflecting back on my experience, I would like to share some of what I learned to benefit others who were not part of my class, dispose of misconceptions and demonstrate how CX applies even in a field that you would not typically think about.
1. The police department is focused and committed to putting citizen's first.
No, they are not providing traditional customer experiences like Amazon and Zappos with shopping guarantees and fast delivery. The police force does significantly more. The men and women are putting their lives on the line to ensure we remain safe and alive. Satisfaction is an understatement.
2. Police appreciate feedback from citizens just as much companies do from customers.
They are eager to improve the community experiences and take actions (close the loop) to drive impactful changes. To no surprise, I wrote to Gary Marshuetz,  Chief of Police, and Barry Lewis, Township Manager, expressing how much my classmates and I learned and how we value all that they do. I was pleased to receive a timely response back acknowledging appreciation for my feedback. What a great example of DoingCXRight! How often do you get a personal letter from an organizational leader and in less than 24 hours of sending your note? I can maybe count on one hand the number of times that has happened to me. The Chief's note made me smile and one of the factors in me telling others to take the program when offered again. Business leaders need to learn from this and do the same, which leads me to my next point:
3. The police depend on advocates and referrals like other brands.
The Citizens Police Academy program was new to my town. It was somewhat of a trial to see if people would want to participate given the time commitment each week and gauge whether to continue based on the attendee feedback post-graduation. While there was no formal survey with the Net Promoter Score (NPS) question ("how likely are you to recommend the program"), it's clear that everyone loved the class from all the conversations in person and photo sharing on social media. I also took it a step further and bragged about the program to my family member, who is a Detective in a nearby town to possibly launch a similar initiative. 
4. Police Academy training is rigorous, and many do not make it to the end
.
While most fields require education and degrees, they are not mentally AND physically challenging to the body in the same way. Test scores also play a huge role in the hiring process and are very competitive. Respect police officers as they are no dummies!
5. The police are human beings.
They are people like you and me with families who also have to follow the law, not just apply it in their jobs. When police officers leave for work, they do not know if they will return at the end of the day as even pulling a car over for speeding could lead to tragedy. Take time to proactively thank the police and never take them for granted (and obviously, do not break the law!)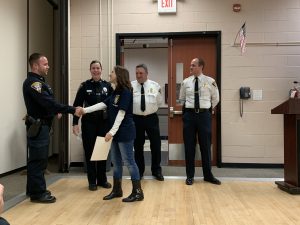 I am proud to be part of the Inaugural Citizens Police Academy class of 01-18 and grateful for the education and new relationships gained with the police department and classmates who I may never have met if it were not for the program. Special thanks to Officers Mullaney & Klapal for organizing the program and keeping everyone engaged each week along with many others who volunteered their time to educate us. Finally, thank you to my classmate, Jared Resnick, for sharing great photographs. (we need a reunion!)

If you like this article, please share with others so they can benefit.
You can read more about the program here.