Not too long ago, consumers had to drive to a retail store to purchase what they wanted. Customer experience (CX) had a different meaning. The launch of digital apps and websites significantly changed our lives offering more convenience, time savings, expanded product choices, and easier access to offers and promotions. Though there are a lot of advantages to digital shopping, it's harder for companies to differentiate their brands. Easy ordering and on-time delivery are customary. Free shipping and simple return processes are the norms. When it does not go as expected, then customers get irate, and satisfaction scores decline. So then….
How Do Companies Best Compete In The Digital Age?
The answer is simple, but implementation takes creativity. Brands need to focus on differentiating themselves by providing memorable experiences that remain in peoples' minds even after a transaction is complete. The following is a personal story that demonstrates my point.
A friend of mine, who knows I love granola, suggested I try a new brand that she thought was amazing. At the time, I could not find a store near me to visit in person but was able to buy on the company's website. My online purchase experience went smoothly. There was nothing that stood out UNTIL my package arrived. That's when there was an ELEMENT OF SURPRISE that keeps me talking and referring Kelly's Four Plus Granola (aside from its great tasting product).
There

was a card enclosed in the box with a message about how I purchased the "freshest Granola possible" and that it is "handmade in small batches in their Norwalk, CT kitchen." I liked reassurance and felt confident that I made the right choice. But more importantly….

There was a hand-written thank you note, as you can see below. I was impressed by the fact that management took the time to personalize it to me. It seems mundane, but I noticed and loved it.
The Point of My Customer Experience Story:
The company went up and beyond to make me feel good about my purchase, aside from delivering a great product. As a result, I've shared with people on social media and am authentically bragging about the company to you. "Word of mouth" recommendations are a marketers dream and the premise of NPS (Net Promoter Score). I believe every company can apply similar principles regardless of industry.
Customer Experience Lessons:
Show customers that you value them. Small gestures, like a handwritten note, can go a long way.

Personalize as much as possible. Just because a transaction is digital does not mean you can't humanize customer experiences. In fact, it becomes even more important when technology is involved.
Take advantage of all channels to thank customers. A letter in a fulfillment box is a great tactic, especially if there's a savings coupon enclosed. Service providers can also provide "Wow Moments" by giving a similar note to customers when visiting them onsite.
Communication is a sure way to delight customers. Read my other article about 5 Tips To Improve CX and EX.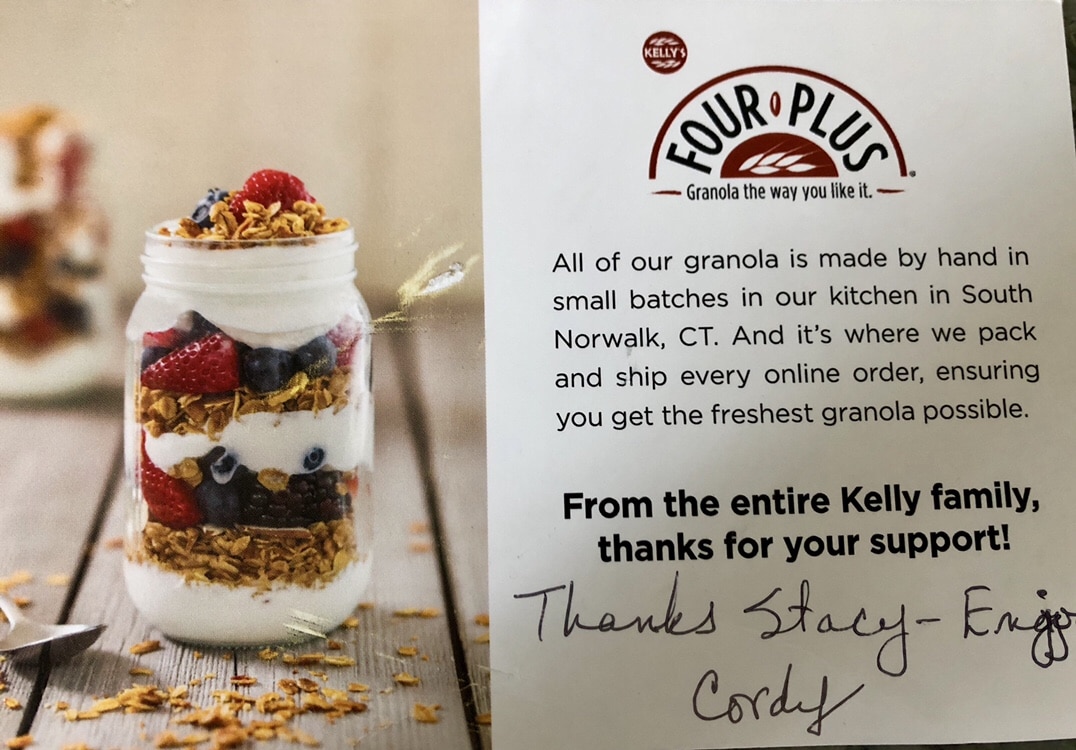 Kelly's Four Plus Granola is not the only one to differentiate its brand in a personalized way. Stacy's Pita Chips is another company that deployed a brilliant marketing and CX strategy. Read my unexpected customer experience story here, which actually ignited my interest in the CX field.
Increase your CX Skills & Transform Your Organization.
Sign Up for my newsletter. You'll get instant access to my free whitepaper about going from CX Novice to CX Expert.
*All opinions expressed are Stacy's alone and do not reflect the opinions of or imply the endorsement of employers or other organizations.