Happy employees lead to happy customers. That's what Simon Sinek says, and it is very true! I've seen first hand throughout my corporate career how much employee satisfaction impacts company culture and overall results. As we live through uncertain times, employee happiness and inclusion are extra important and require creativity to achieve an engaged workforce who delivers customer excellence.
How To Create Meaningful Connections with employees Today
Form a workplace book club (virtually during a pandemic). The idea is more than just reading the same book, although that is a bonding experience. I'm suggesting to join Simon Sinek's online community and read "Start with the why." Each Friday at 3pm EST, he will be discussing a chapter and answering questions submitted by his fans.
My Customer Experience team and I are joining Simon's sessions and also planning to get together on Mondays. WHY? To discuss key takeaways, learn from diverse perspectives, and become a better conversationalist.
Book Club Details: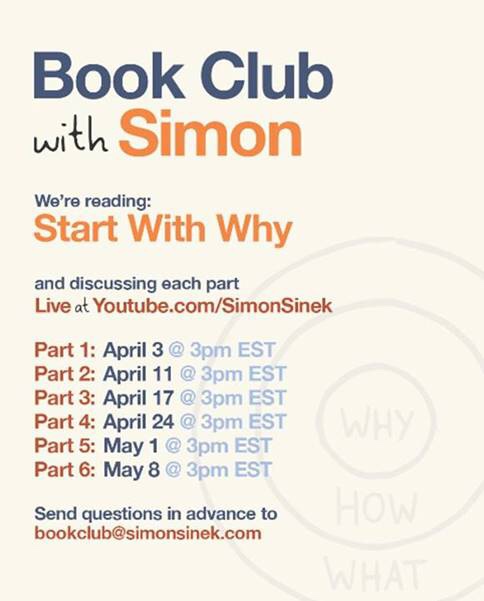 Here's How It Works:
Step 1: Find at least one other person and read the book together. Be it with friends or colleagues, the goal is that we are doing something as a community.
Step 2: Send your book club's questions for each of the six parts of Start with Why to bookclub@simonsinek.com, include the name of your book club and the names of its members.
Step 3: Tune in to YouTube.com/simonsinek where he will answer your questions live. If you can't make it live, worry not, he will keep the videos posted on YouTube.
What Are YOU Doing to Engage Your Employees?
I recommend a book club as it's great for the mind, awesome for leadership, and excellent for business as work teams unite and break silos.I'd love to hear your stories and I will continue to share lessons learned from Simon's book club and related experiences.
Special thank you to my entire rockstar CX work family (not everyone shown below). You inspire me every day to show up as my best self.
More photos and articles to follow.
Increase your skills & Transform your business by DoingCXRight®‬
Sign Up for my newsletter. You'll get instant access to my free whitepaper about going from CX Novice to CX Expert.
Contact Stacy for mentorship and collaboration ideas at Stacy@DoingCXRight.com
*All views expressed are mine & do not reflect opinions of or imply endorsement of employers or other organizations