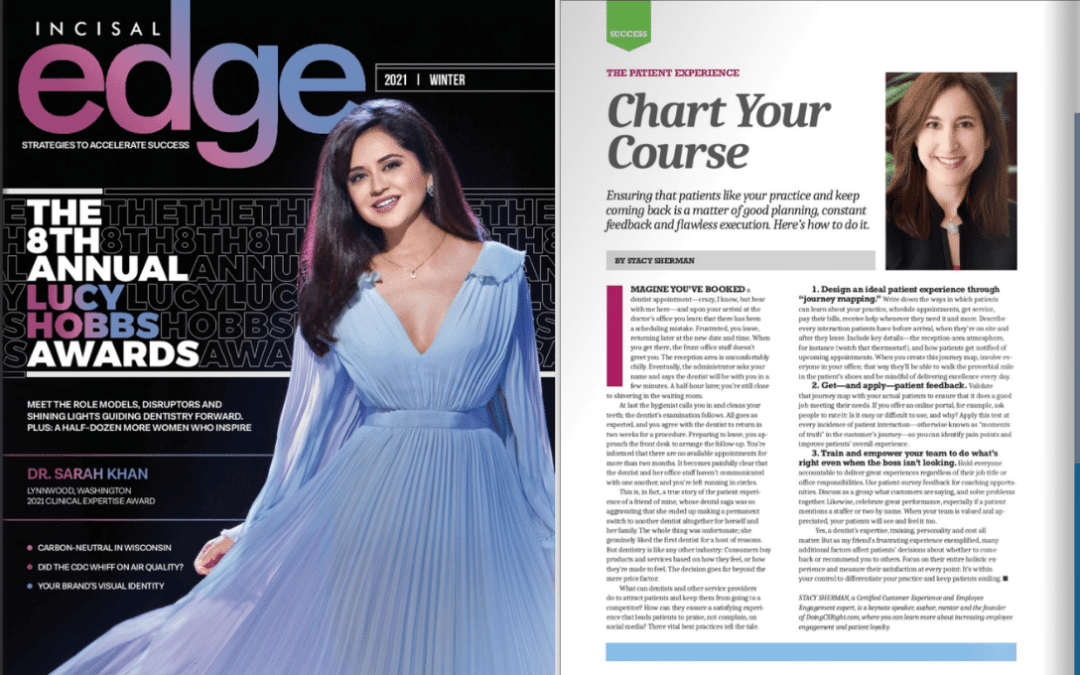 .Stacy Sherman's Patient Experience article originally published in Incisal Edge- Lifestyle Magazine For Dental Professionals (page 24) in honor of the Lucy Hobbs project (Women in dental initiative).
Imagine you booked a Dentist appointment, and when you get to her office, you learn that there was a mistake in scheduling. You leave frustrated and later return at the new date and time. Upon arrival, the front office staff does not greet you, and the waiting room is overly cold. Eventually, the administrator asks your name and says that the Dentist will see you in a few minutes, which turns into a half-hour later.
Finally, the hygienist calls you into her room, cleans your teeth followed by the Dentist examination. All goes as expected, and you agree with the Dentist to return in two weeks for a procedure. Upon leaving, you approach the front desk to arrange another visit. You're informed that there are no appointments available for over two months. It becomes painstakingly clear that the dentist and office staff never communicated with one another and you're left running in circles.
This is a real story. It describes my friend's patient experience that was so aggravating, she ended up choosing someone else to care for her dental needs and family members too. It is unfortunate because she genuinely likes the Dentist and her costs are reasonable too. Yet as in any industry, people buy products and services based on how they feel. It goes way beyond price factors.
What can Dentists and other service providers do to attract and keep patients from going to a competitor? How can they ensure a satisfying experience so that patients share raving reviews versus bad press on social media?
There are three best practices to differentiate your company and keep patients happy:
1. Design an ideal patient experience through journey mapping.
Write down how patients may learn about your practice, schedule appointments, get service, pay invoices, receive help whenever needed, and related tasks. Describe every interaction that patients may have before arrival, when onsite, and post-visit. Include details, such as the waiting room atmosphere, and how patients get notified of upcoming appointments. When creating a journey map, involve everyone in your office so they "walk in the patient's shoes" and continue to be mindful of delivering excellence every day.
2. Get and apply patient feedback.
In other words, validate your journey map with real patients to ensure it meets their needs. If, for example, you offer an online portal, ask people to rate their level of effort. Is it easy to use or difficult, and why? Apply this same tactic at each interaction point, otherwise known as "moments of truth" in the customer journey, so that you can identify "pain points" and improve experiences.
3. Train and empower employees to do what's right, even when the boss isn't looking.
Hold everyone accountable to deliver great experiences, regardless of job function or title. Use patient survey feedback for coaching opportunities. Discuss as a group what customers are saying, and problem-solve together. Likewise, celebrate examples of great performance, especially as patients mention your staff by name. When your team is valued and appreciated, your patients will see and feel it too. They go hand in hand.
In conclusion, a dentist's expertise, training, personality, and service costs matter. Yet, there are additional factors that impact patient decisions to return and recommend to others. It's in your control to differentiate your practice and keep patients smiling. Focus on their entire experience and measure their satisfaction level at every interaction point.
NOTE: The Winter 2021 special magazine edition focuses on women driving positive changes in the dental industry in honor of Lucy Hobbs, who graduated in 1866 and became the nation's first licensed female dentist. Quite different than today where half of the dental school graduates are women. In her honor, Incisal Edge is dedicating its magazine to Lucy Hobbs and discusses empowering people to drive change, achieve success, and bring women together from all facets. Learn more about the Lucy Hobbs project