Who Is Stacy Sherman:
The short answer:
Stacy Sherman is a Corporate Executive at Liveops, and an award-winning keynote speaker, author, and podcaster focused on Doing Customer Experiences Right as a brand differentiator. She's created a Heart & Science™ framework that accelerates loyalty, referrals, and revenue fueled by valued and empowered employees and customer service agents.
Stacy has held multiple leadership roles at major companies such as Verizon, Wilton Brands, AT&T, and Schindler Elevator. What differentiates Stacy from others is that she brings real-life examples and customer service experience best practices from being in the trenches! Others speak and write about CX from a purely academic view and short-term consulting projects, while Stacy is really walking the talk every day!
Stacy's strategic skills are not limited to business—she is also a serious backgammon player who has traveled internationally to compete.
A mother of two human kids and two furry ones, Stacy and her husband of 27 years live in the New York metro area.
View One-Page Media Summary HERE.
Check What Others Say About Stacy HERE.
The longer story:
In a world in which impersonal customer interactions are the norm, Stacy Sherman is an empathetic customer experience (CX) pioneer who has devoted her career to leading with a heart and creating lasting customer loyalty through engaged employees. Recognizing the humanity in others is critical to any business's success. Whether a company is marketing to other businesses or consumers, its ultimate audience is an individual. There is a person at the other end of every campaign and communication; for businesses that desire to be competitive and acquire customers, making a human connection is critical.
Continue Reading
Passion & Dedication
Stacy's mission is to help brands delight customers, meet their needs, and create superior experiences that build not just relationships but lasting, meaningful connections with people. Through her company, DoingCXRight, Stacy advocates for the humanization of business and delivers a framework rooted in the customer. Stacy's approach aligns cross-functional teams from critical parts of the organization—sales, marketing, product, and leadership to allow stakeholders to deliver a customized customer experience that goes far beyond price of services or goods.
Proven Methodology
Applying a holistic view of CX, Stacy incorporates employee engagement strategies to realize positive client outcomes. Engaged and happy employees are also loyal and satisfied customers. Stacy partners with clients to execute an integrated, measurable CX strategy that increases customer loyalty and satisfaction, heightened brand value, and reduced market friction. In 2019, she led the first-ever annual CX Day at Schindler Elevator Corporation to drive awareness of the importance of customers' experiences and show gratitude to employees for their efforts in delivering superior customer service. After its initial success, the company adopted and transformed the program into an entire week dedicated to recognizing CX as a strategic imperative across the global organization. Further, she collaborated with leadership to drive historic customer satisfaction and net promoter scores (NPS) and achieve a year-over-year CAGR of 6%.
Continuous Learning & Improvement
Stacy is committed to developing the next generation of talent, and coaches and mentors those who are looking to break into the field. She has been featured in multiple publications, including Forbes and Psychology Today. She has also received numerous awards and accolades for her leadership in the field, including CX Leader of The Year. In addition, Stacy is a vocal advocate for workplace diversity and inclusion and promotes recruiting and developing talent from underrepresented groups. The results of these efforts are immediate and remarkable—heightened competitiveness and improved productivity. She continues to drive cultural transformation by creating environments focused on empathetic leadership, stakeholder accountability, and open and honest communication among team members.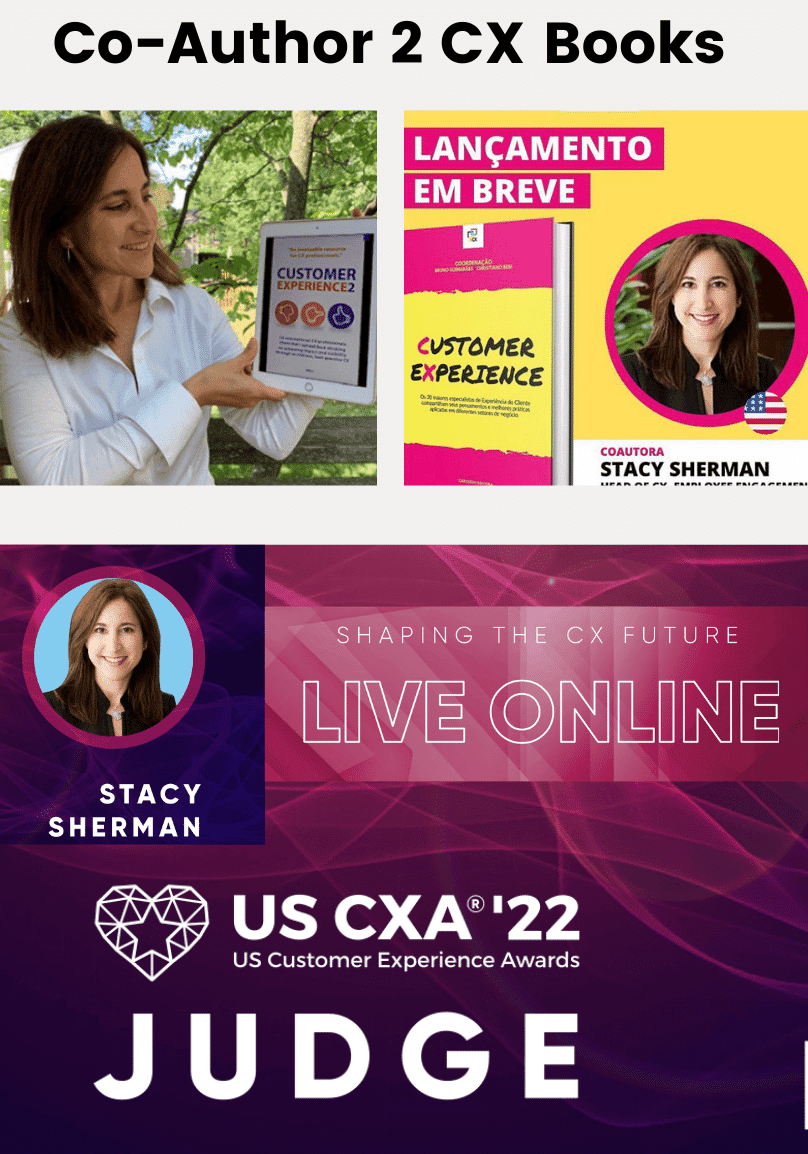 Education & Certifications
MBA, Marketing – Fairleigh Dickinson
BSBA Marketing- American University
Net Promoter System (NPS) – Owen
Customer Experience (CX) – Rutgers
Design Thinking – Pace Univ: Lubin  School of Business
Big Data – Rutgers
User Experience (UX)  – Rutgers
Usability Analyst (CUA) – Human Factors (HFI)
Search Engine Optimization(SEO) – Ayima
Social Media Marketing – Rutgers
Paid Search(SEM) – Google & Yahoo
Top 5 Customer Experience Podcasts in 2022 ~ CX Magazine
Top 20 Global Customer Experience Experts – Marketvibe
Top 5 Key Note Speakers 2021 – ReadWrite
Top 25 Customer Service Thought Leader of 2021 – ICMI
Top Customer Experience (CX) Influencer 2021 – Awards Magazine
Customer Experience + UX 2020 & 2021 Awards Judge ~ ARCET

Global Top 30 Customer Service Guru 2021 – Global Gurus
Top Customer Experience Resources to follow in 2021 – MattsenKumar
Customer Experience MVP 2020 awards – CEU
Top  150 Global CX thought Leaders  of 2020 ~ SurveySensum
Top 50 Customer Service Leaders ~ Netomi
CX Impact Award Finalist ~ CXPA

Usability Expert Recognition ~Human Factors International
Forbes writer and top-ranked columnist for CustomerThink

CX Founding Board Member & Advisor: Rutger &  Seton Hall Universities
Diversity & Inclusion Advocate
Happy engaged employees lead to happy loyal customers. There is a direct correlation, which I have learned from comparing employee and customer Net Promoter (NPS) results. Customer satisfaction cannot happen without great employee experiences, so there must be a champion at the top who advocates for thought diversity, inclusion, and employee needs. As I climb the corporate ladder, I've been a change agent encouraging everyone to show up as their best selves without fear of judgment. I am also elevating careers,  especially women who have not traditionally been invited to the table where decisions are made. Some passion projects include: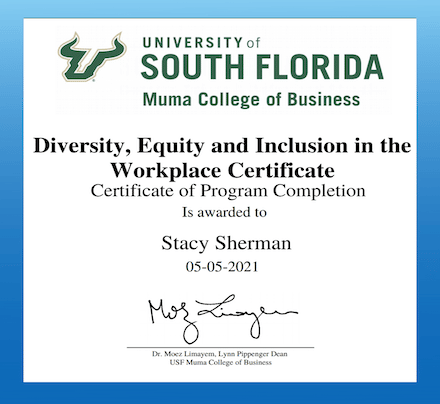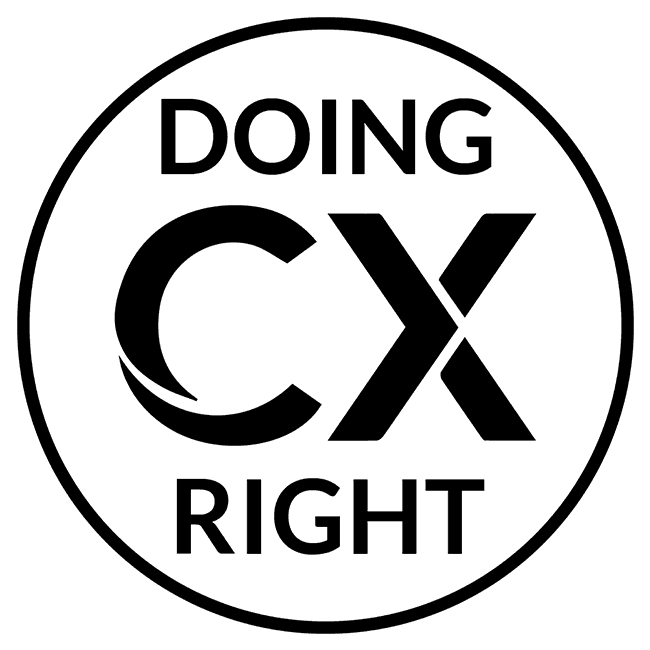 Why ‪DoingCXRight®‬ Passion?
As a consumer, I have seen too many brands miss opportunities to delight customers and meet their needs. Likewise, I've felt and witnessed employees not feeling valued, included, and empowered to deliver customer excellence. Consequently, I am on a mission to create and inspire better experiences so that REAL human connections and happiness can exist.
DoingCXRight is a journey-based framework that advocates for humanizing business and maximizing satisfaction through a meaningful and practical approach to customer experience (CX). It's based on engaged employees and leaders who apply both heart and science — combining proven techniques to create brand affinity, loyalty, and a competitive edge that delivers results. My methodology applies to all industries and differentiates brands. (It's beyond price!)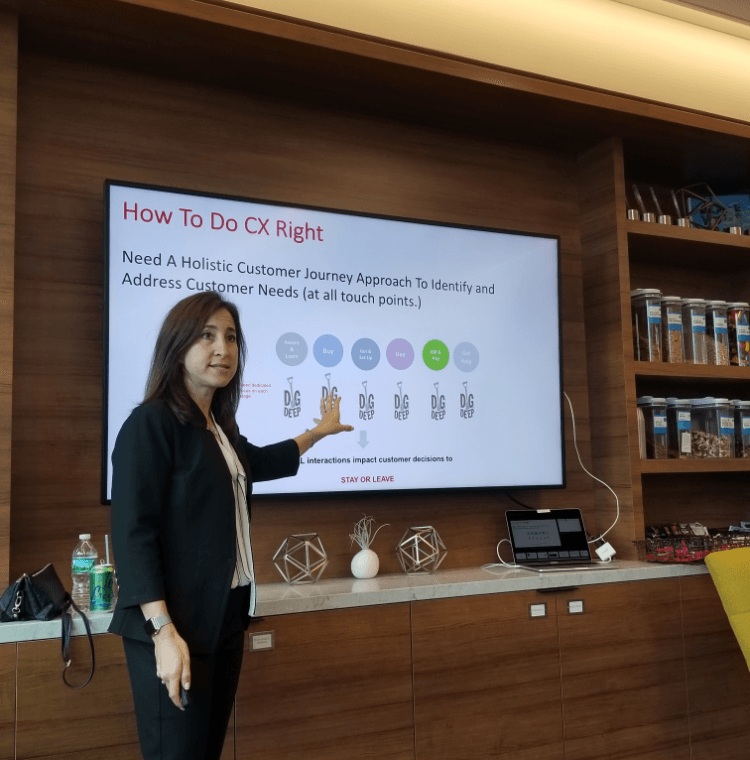 Areas of Customer Experience & Service Expertise
Transforming culture through people management and coaching
Customer (CX), User Experience (UX), Employee Experience (EX)
Voice of Customer (VoC)+ Employee (VoE) + Agent (AX)
Persona development & journey mapping
Website optimization through test & learn A/B approach

Digital Marketing and personalization

Research. Survey Design, User testing
Contact Center & Survey Team effectiveness
Measurements of success (Net Promoter -NPS, C-Sat, Effort, etc)
Mom of two children and two dogs. Fan of Simon Sinek. Applying his why principles every day & mentoring others to do the same. I'm an inclusion & thought diversity advocate (as happy employees lead to happy customers.)  I don't just talk. I'm a doer such as hosting  "Women Leaders Making A Difference" community. I believe that small actions lead to big impacts. I love writing, speaking & podcasting to educate, empower and uplift others to maximize results. Fun fact: I'm a Backgammon lover. Traveled internationally to compete in tournaments.
LET'S TALK
Connect with me for mentoring & collaboration opportunities.