In my recent article, I wrote about "WHAT Is A Journey Map and WHY Create One?" Once you understand the importance, you may be wondering HOW to get started and improve your CX skills. If you are interested in learning more, you have come to the right place.
As a refresher, the purpose of creating a customer journey map is to help design better products and services and overall great experiences. It is a valuable method to identify problems and areas of success as customers become aware, learn, buy, get, use, etc. While Journey Maps typically look visually different from one organization to another, they consistently enable you to empathize with how customers feel when interacting with a brand.
3 key steps to create a journey map:
1. Define Customers / Personas.
Who is your target audience(s)? What are their interests, needs, and wants? What obstacles keep them from achieving their goals? What are their demographics, such as age, income range, education? Where do they go to find information? Answering these questions and related ones often require research through informal and formal interviews and surveys. Leveraging internal data on current customers and insights from "voice of employees" (VOE) is valuable as well.
2. Identify How Target Customers Will Interact With Your Brand. 
A journey map helps to define key touchpoints and channels, such as: where will customers learn about your products and services? i.e. retail store, webinar, industry events. How do they receive communications? i.e. email. social media, sales rep visits, etc. This information provides insights as to why customers may or may not be satisfied and where pain points reside.
3. Dig into Customer Mindset Within Each Interaction.
You want to put yourself in the "customer shoes" and identify the emotions they feel along the journey. To do this effectively, I recommend leveraging tools to guide you through the process. While there are many templates available on the internet, I especially like one that Carol Bruehs shares in her classes. There are a few university-based CX courses that teach journey mapping among other topics. Contact me for recommendations and a 20% discount code that I used, and you can too.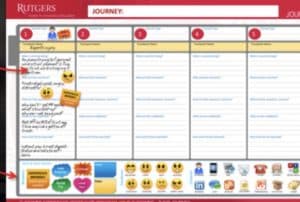 Carol is offering DoingCXRight readers a copy of her template to help others in their journey mapping sessions. Download for free now.  
Do You Want to increase YOUR Customer experience SKILLS & TRANSFORM YOUR ORGANIZATION?
*All opinions expressed are Stacy's alone and do not reflect the opinions of or imply the endorsement of employers or other organizations.
SaveSave
SaveSave
SaveSave
SaveSave
SaveSave
SaveSave
SaveSave
SaveSave
SaveSave
SaveSave
SaveSave
SaveSave
SaveSave
SaveSave
SaveSave
SaveSave
SaveSave
SaveSave
SaveSave
SaveSave
SaveSave
SaveSave
SaveSave
SaveSave
SaveSave
SaveSave
SaveSave
SaveSave