Mistakes happen all the time, because there's a human at the other side of a business transaction. What employees (the face of your company) do when errors occur affects customer trust and loyalty. For example, do employees make excuses or take accountability? Do they ignore a problem as if it didn't exist, or do they respond promptly and go up and beyond to provide better customer service?
I've witnessed over and over again that customers are more forgiving when problems are not ignored.  Providing customer service in an empathetic manner can boost customer feelings and turn NPS detractors into promoters as in the case of Conray Weaver's hotel visit. I'm happy to share his "Wow Moments" as they provide great brand lessons about turning bad situations into positive stories that go viral.
Contray's original article can be found here.
Two years ago I had the privilege of staying at the Nemacolin Woodlands Resort in western Pennsylvania. I was on a job for a client who paid for my stay at the resort; not a bad gig, I must say.  Nemacolin is truly a 5-star facility, it's a gorgeous place with huge rooms – mine even had a chandelier. When I arrived at the hotel, I was greeted by a professional staff of valets and bell hops, everyone I encountered was courteous, professional, and completely focused on making my experience comfortable and relaxing.
So, I was quite perplexed the next morning when I jumped into the shower to get ready for my day and the shower head didn't seem to be working properly. The stream of water coming out of the shower was really wimpy, so I tried adjusting the shower head but couldn't seem to get it working the way I thought it should.  Since I had a very busy day ahead of me, I didn't spend too much time messing with it, but after a second morning of a poor shower experience I decided to tell someone – well, actually I decided to tweet about it.
So at 9:51AM I sent out the following tweet:

To make a long story short, within 30 minutes of sending that tweet, I had a response from the Nemacolin staff, and by the time I got to the room that evening, the shower head was replaced and in excellent working condition!  Of course, I thanked the folks at Nemacolin with a tweet!
Fast-forward one year later. Twelve months after my wimpy shower, I found myself once again at Nemacolin – lucky me!  When I arrived in my room – to my amazement – I found a note on the desk along with a gift package. The note mentioned the "wimpy shower" from 12 months before, and said the gift on the desk is for the trouble I had.  I was sincerely impressed!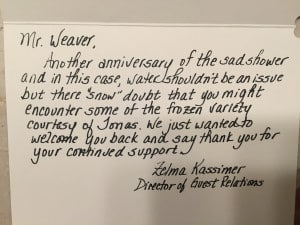 But hold on – this year I was back at Nemacolin Woodlands working for the same client, and walk into my room, and on the bed – yes, TWO YEARS after I had trouble with a wimpy shower head  – they had a huge gift basket on my desk and a note. Two years later, they remembered and gave me a gift!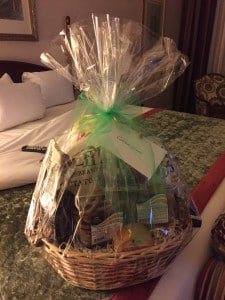 The level of customer care that's exhibited by the staff at Nemacolin Woodlands is beyond anything I've ever experienced anywhere – and I've stayed at some really nice places!  Why do they do this? Maybe it's because they're a 5-star resort? Maybe its because they really understand the power of social media? Maybe it's because they actually care about their guests!
I think it's because they really understand how to treat people – their customers.
Without customers no business can survive. Without customer service, no business will thrive. Going above and beyond expectations adds value to your business, and often earns customers for life.  For me, I will always be a huge fan of Nemacolin Woodlands Resort, and I will be a customer for life!
Take time today to do something that goes above and beyond your customer's wildest expectations!  Surprise them, and they may surprise you!
Get more actionable tips about creating great customer service to drive loyal brand advocates even when mistakes happen in my other aricle. Tell me your stories as I love hearing and featuring Wow Moments.