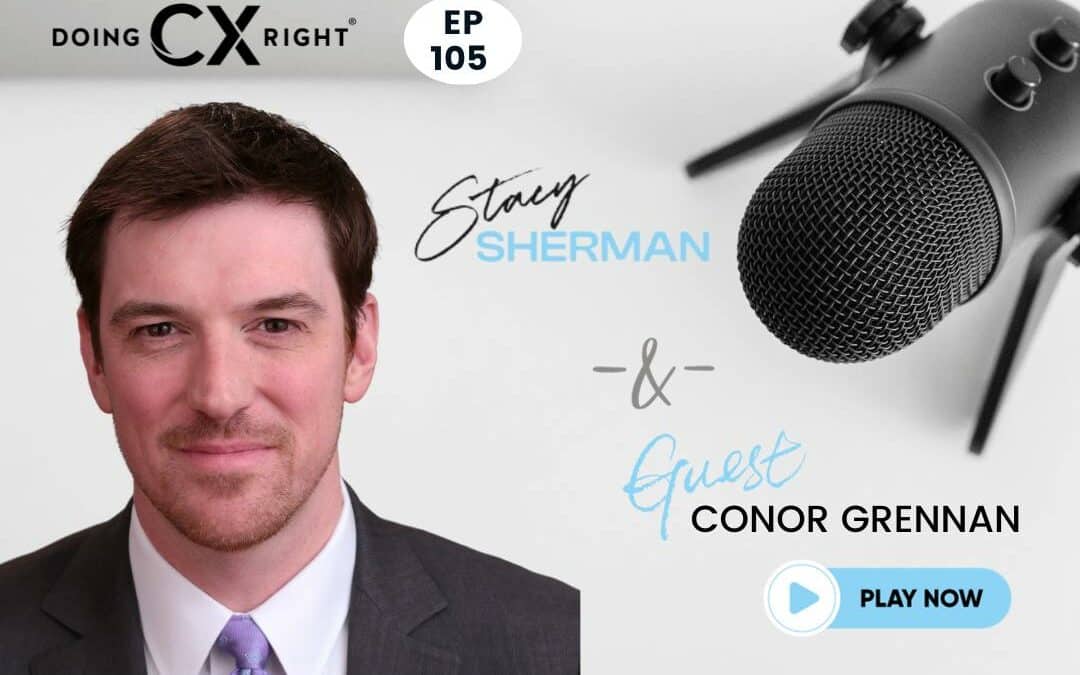 Artificial intelligence is advancing rapidly, and one of the most promising areas for Customer Experience leaders is generative AI.
Generative AI refers to machine learning models that can generate new content, such as text, images, audio, and more. Major models like DALL-E for images and ChatGPT for text showcase the vast potential, and these technologies are improving continuously.
Wonderfing how you can harness generative AI to elevate your customer experience strategy? In this episode, Stacy Sherman interviews Conor Grennan, Dean of MBA students at NYU Stern School of Business, to discuss practical strategies for implementing generative AI in customer service training, education, and simulated models.
You'll hear insights on the importance of authenticity in customer interactions and the need for human connection in an increasingly automated world. Listen now to learn how generative AI can enhance your customer experience and actionable tactics to drive business success.
Key Takeaways to Lead With Generative AI in CX
Implementing emerging technologies like generative AI for CX requires strategic vision and execution. Keep these tips in mind:
Start with tightly defined use cases that address pain points, and run controlled pilots. Look for quick wins to demonstrate potential and build confidence.
Integrate generative AI seamlessly into daily workflows for broad value creation. Don't silo it.
Maintain rigorous monitoring for model accuracy, risks and customer perception. Continuously improve with real-world feedback.
Combine automation and human touch thoughtfully. Strike the right balance for each customer journey.
Develop responsible AI practices around transparency, ethics, and governance. Build trust by addressing risks proactively.
With a thoughtful approach, generative AI can transform CX capabilities in your organization.
Show Topics and Time Stamps
Origins of Grennan's interest in tech and AI (2:55)
Writing the book Little Princes and key lessons (5:20)
How generative AI enhances understanding customers (8:40)
Applications for customer service training (12:30)
Framework for implementing generative AI (16:50)
Ways to apply generative AI for better CX (22:30)
The future human role with advancing AI (26:40)
Leadership and passion advice (29:50)
Key takeaways on leading with generative AI for CX (33:20)
Press Play  To WATCH On Youtube
About Conor Grennan ~ Generative AI Expert  
Conor is the Dean of MBA Students at New York University's Stern School of Business. He oversees the student experience for over 2,300 full-time, part-time, and Executive MBA students. Grennan also leads Stern's Generative AI program, which teaches students and faculty how to leverage AI technology. He previously worked for a nonprofit in Nepal and is the author of the bestselling memoir "Little Princes.".
Connect on LinkedIn 
About Stacy Sherman: Founder of Doing CX Right®‬
Customer experience and marketing global keynote speaker, journalist, co-author of two books, advisor, and host of the award-winning DoingCXRight podcast. Known for her Heart & Science™ framework that helps you gain profitable clients and brand loyalty–fueled by an empowered workforce. Stacy's been walking the talk for 25 years as a strategist and practitioner at companies of all sizes and industries, i.e., Liveops, Verizon, Schindler Elevator Corp, Wilton Brands, and AT&T. She's also a board advisor at multiple universities, featured in Forbes and other top-rated publications.
Her Why: To cultivate loyal relationships and meaningful experiences that enrich people's lives. Contact Stacy for DOING Customer Experience (CX) and Service Right, not just TALKING about it. Continue reading bio >here.
Keyword themes: #DoingCXRight #podcastbusiness #customerservice #contactcenter #artificial intelligence #AI #customerexperience