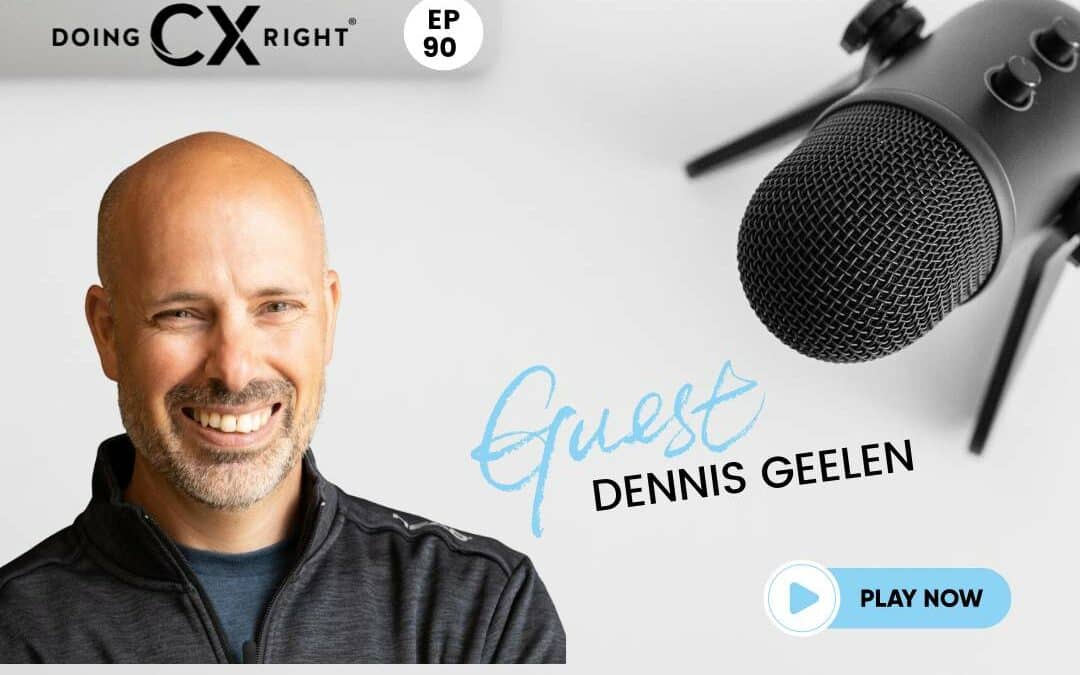 Press Play ▶️ To LISTEN To Podcast
How do top customer-centric brands gain and sustain a loyal following?  What are they doing differently that you can replicate at your company? If you want answers to these questions, don't miss this episode of the "Doing CX Right" podcast.
Host Stacy Sherman interviews author and solopreneur Dennis Geelen about his "Zero In" formula to grow a customer-centric brand that people love and crave. They discuss practical steps for improving customer experiences in innovative ways based on research and case studies which will help you take your business to the next level.
5 Strategies You'll Learn About Building An Innovative Customer-Centric Brand
Talk to your customers:
To understand your customers' needs and preferences, talk to them directly. Ask for feedback, conduct surveys, and communicate regularly. Being a customer of your own product or service is also essential to understanding the customer journey and identifying areas for improvement.

Foster a culture of innovation: Challenge your employees to think differently and do things differently by switching up meeting formats, encouraging diverse perspectives, and creating a culture of inclusion. Innovation thrives in diverse environments, and intentional inclusion is foundational to innovation.

Design intentional customer experiences:
Create customer experiences that are unique, memorable, and engaging. Validate them through customer feedback and iterate as necessary.

Take risks:
Don't be afraid to try new things, even if they fail. Innovation often requires taking calculated risks and learning from failures.

Build relationships:
Building customer, employee, and partner relationships is essential to business success. Foster a culture of trust and transparency, and prioritize building long-term relationships over short-term gains.
Jesse Cole, owner of the Savannah Bananas baseball team, is a prime example of the power of customer-centricity and innovation. By implementing transparent pricing, removing advertising from the outfield fences, and creating new rules to make the game more exciting, Cole turned the baseball experience upside down and achieved unprecedented success. Solopreneurs, small businesses, and startups can achieve sustainable growth and long-term success by implementing these strategies. 
Listen to the show for more details to start and grow your customer-centric brand.
Press Play ▶️ To WATCH On Youtube
About Dennis Geelen: Creating a Customer-Centric Brand
Dennis spent over 20 years in various corporate leadership roles in several industries.
Until, at the age of 43, he found myself laid off for the first time in my life. Disgruntled and determined, he decided to bet on himself and become a solopreneur.
Since then, he has:
– Built a successful consulting practice, ZERO IN, helping businesses become more customer-centric and innovative
– Written 4 business books including the best seller, THE ZERO IN FORMULA
– Released an Online Course by the same name
– Built a network on LinkedIn of over 13K connections
About Stacy Sherman: Founder of Doing CX Right®‬
Customer experience and marketing global keynote speaker, journalist, co-author of two books, coach and host of the award-winning DoingCXRight podcast. Known for her Heart & Science™ framework that produces profitable clients and brand loyalty–fueled by an empowered workforce. Stacy's been walking the talk for 25 years as a strategist and practitioner at companies of all sizes and industries, i.e., Liveops, Verizon, Schindler Elevator Corp, Wilton Brands, and AT&T. She's also a board advisor at multiple universities, featured in Forbes and other top-rated publications. Her Why/ Mission: Cultivating meaningful, authentic relationships and experiences so people have more fulfillment in business and life. Contact Stacy for DOING CX RIGHT, not just TALKING about it. Continue reading bio >here.
#customerexperience #innovation #customerneeds #coaching #consulting #entrepreneurship #solopreneurs, #smallbusinesses #sustainablegrowth, #diverseperspectives #diversity #podcast #customerfeedback, #riskstrategy ,#businesssuccess #customerservice #customercare #inclusion #equity #podcastinterview #podcasthost #businesstips #companyculture #businessculture #podcastbusiness