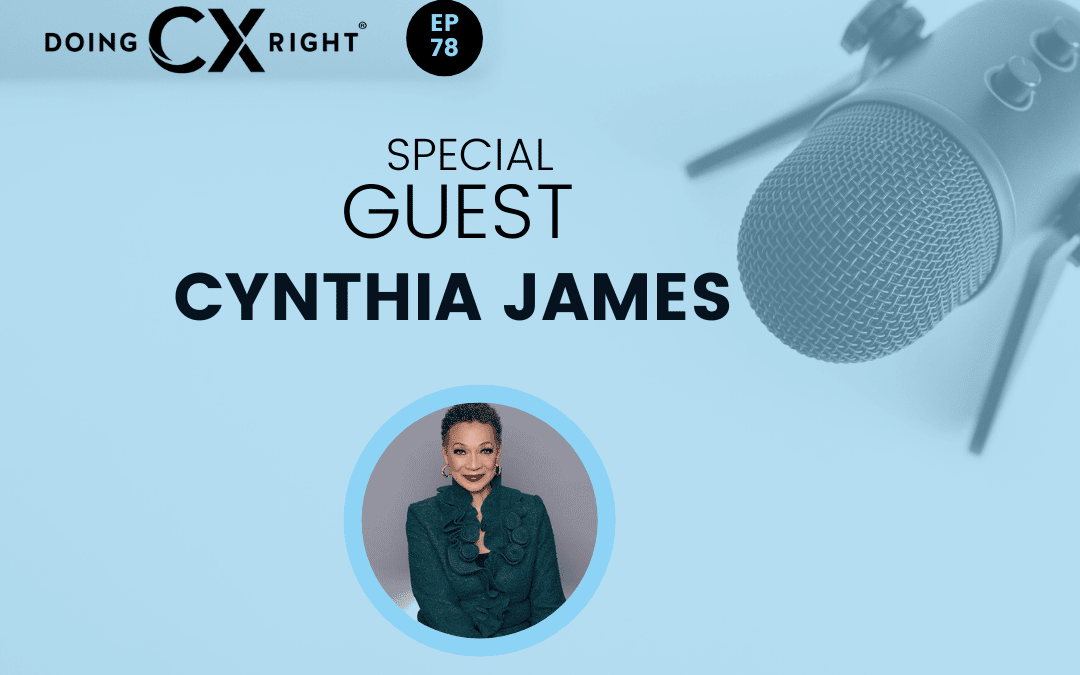 Achieving Success Through The Power Of Your Voice
Press Play ▶️ To LISTEN To Podcast
Your voice matters in the workplace; speaking up and making it heard is not a nice to do but a must for achieving success now and into the future. Whether you're a new employee trying to make a good impression or a seasoned professional looking to make a difference, having a confident voice is a key formula to getting what you want.
For many people, speaking up in the workplace can be intimidating. You might worry about being judged or feel you have nothing valuable to contribute. However, remember that everyone has something to offer, and your perspective and experiences can be valuable to your customers, colleagues, and organization.
On this podcast episode, you'll hear Stacy Sherman's interview with Cynthia James, International Coach and TEDx Speaker, who shares details from Cynthia's book "Your Voice matters"…how your voice is a tool of engagement. By the end of this episode, you'll know exactly how to improve your confidence and communication skills to better interact with customers, employees, and the experiences you/ we all have as human beings in and out of the workplace. 
Additional Topics:
What inspired Cynthia James to write the book "Your Voice Matters?"

The meaning of  

"the voice is used as a tool of engagement" and success tactics.

Why people resist speaking up and hold back, knowing transformation and growth depend on it.

Key tactics for leaders to improve confidence & communication skills with customers, employees, all humans?

The meaning of emotional intelligence and ways to advance skills.

Fun factions about Cynthia and meaningful leadership advice to support your success based on her unique journey.
About Cynthia James 
Mastering Your Voice To Achieve Success in Business and Life
Cynthia James is an Emotional Integration Leadership Coach and transformational specialist. She is one of today's brightest and best loved inspirational leaders and teachers guiding thousands of people to make changes at a deep level for lasting healing in their lives.
Whether coaching, speaking, or teaching Cynthia invites participants into INQUIRY, INTROSPECTION, AND INTEGRATION. Her newest program, Advanced Awareness Coaching offers depth, focus, and results for high-level business creatives.
She has completed two master's degree programs; one in Consciousness Studies from the Holmes Institute where she was awarded the honor of distinguished alumni, and the other in Spiritual Psychology from the University of Santa Monica. Cynthia has uniquely combined the creative arts with innovative therapeutic techniques to bring powerful personal growth and expansion to individuals of all ages, cultures, and lifestyles, including facilitating the message of her bestselling and award-winning books, "What Will Set You Free", Revealing Your Extraordinary Essence", "I Choose Me: The Art of Being A Phenomenally Successful Woman at Home and at Work" and latest book, "Does My Voice Matter? A journey of Self-Discovery, Authenticity and Empowerment."
Cynthia's life was transformed as she transcended her childhood of violence and PTSD. Ms. James is personally committed to utilizing creative expression as a vital and effective healing modality. Her messages, music, and meditation products have supported individuals and groups around the world.
Cynthia has appeared in the movies, Sacred Journey of the Heart and Leap! She has facilitated hundreds of workshops, seminars, and keynotes; including Celebrate Your Life, Omega Institute, Woman Arising, the Gift in Shift, Colorado Behavior Healthcare Council, Women's Success Forum, the Children's Hospital and many others. Cynthia has co-hosted a radio talk show, a television talk show in Los Angeles and is a sought-after radio guest.
Internationally, Ms. James has led workshops in England and Ireland and has created and facilitated pilgrimages to Egypt, Peru, Chartres, France, meditations in the Temples of Humankind in Damanhur, Italy and Mary Magdalene experiences in the south of France.  She has presented and been the co-chair of the Women's Leadership Conference in Uganda, Africa for the Global Livingston Institute.
About Stacy Sherman: Founder of Doing CX Right®‬
An award-winning certified marketing and customer experience (CX) corporate executive, speaker, author, and podcaster, known for DoingCXRight®. She created a Heart & Science™ framework that accelerates customer loyalty, referrals, and revenue, fueled by engaged employees and customer service representatives. Stacy's been in the trenches improving experiences as a brand differentiator for 20+ years, working at companies of all sizes and industries, like Liveops, Schindler elevator, Verizon, Martha Steward Craft, AT&T++.   Stacy is on a mission to help people DOING, not just TALKING about CX, so real human connections & happiness exist. Continue reading bio >here.