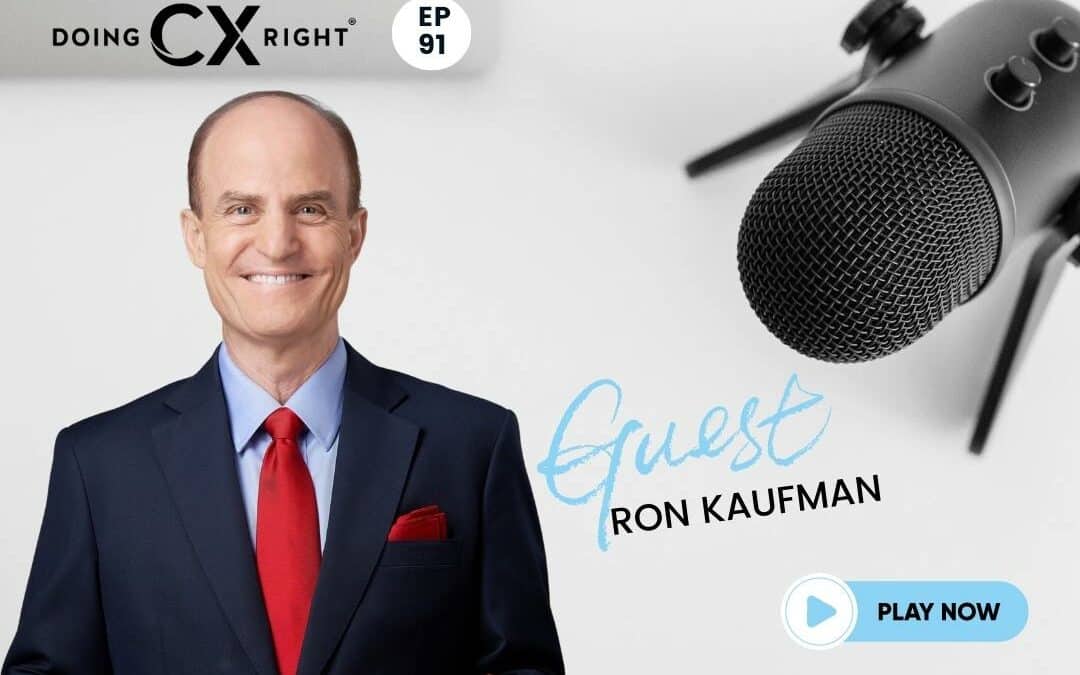 Press Play ▶️ To LISTEN To Podcast
In the latest episode of Doing CX Right, host Stacy Sherman welcomes customer service culture expert Ron Kaufman to discuss practical strategies for creating a customer-centric culture within an organization.
One of the key topics discussed is the challenge of siloed thinking within teams. They emphasize the importance of breaking down silos and encouraging cross-functional collaboration to create a unified customer experience.
Measuring the effectiveness of service culture is another challenge addresses. Ron suggests using perception points to gauge customers' opinions of the brand and to differentiate the business from its competitors.
Lastly, you'll hear a real-life case study of a company that has successfully transformed its toxic culture into a customer service company. The valuable lessons learned from this example can be applied to any organization.
3 tips to building a customer service culture:
1. Encourage cross-functional collaboration to break down silos within teams.
2. Measure customer perception points to gauge the effectiveness of your service culture.
3. Learn from successful case studies and apply the lessons learned to your organization.
In the words of Kaufman, "A lot of people think that service is a department. But service is not a department, it's a culture."
Tune in to this episode and discover how to build a customer service culture the right way. Subscribe to "Doing CX Right" on your favorite podcast channels and share this episode with others who can benefit from these practical strategies.
Key Topics: customer experience, #customer service, customer care, company culture, business culture CX employee experience employee engagement employee culture podcast interviews podcast business
About Ron Kaufman: Creating An Uplifting Customer Service Culture
Ron Kaufman is the author of the New York Times and USA Today bestseller, "UPLIFTING SERVICE: The Proven Path to Delighting Your Customers, Colleagues and Everyone Else You Meet."
For over two decades Ron has helped companies on every continent build a culture of uplifting service that delivers real business results year after year. Making transformation his mission, Ron is one of the world's most sought-after educators, consultants, thought-leaders and customer service speaker in achieving superior service.
About Stacy Sherman: Founder of Doing CX Right®‬
Customer experience and marketing global keynote speaker, journalist, co-author of two books, coach and host of the award-winning DoingCXRight podcast. Known for her Heart & Science™ framework that produces profitable clients and brand loyalty–fueled by an empowered workforce. Stacy's been walking the talk for 25 years as a strategist and practitioner at companies of all sizes and industries, i.e., Liveops, Verizon, Schindler Elevator Corp, Wilton Brands, and AT&T. She's also a board advisor at multiple universities, featured in Forbes and other top-rated publications. Her Why/ Mission: Cultivating meaningful, authentic relationships and experiences so people have more fulfillment in business and life. Contact Stacy for DOING CX RIGHT, not just TALKING about it. Continue reading bio >here.