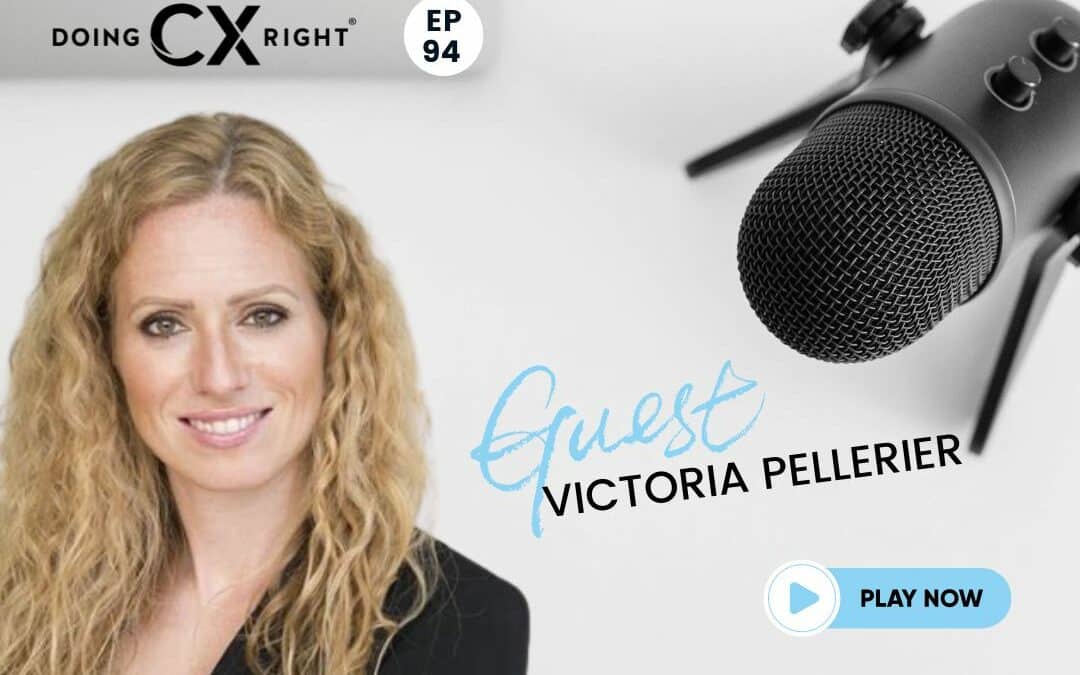 Press Play ▶️ To LISTEN To Podcast
Do you ever wonder why some businesses seamlessly deliver extraordinary customer experiences while others continue to struggle? Host Stacy Sherman and guest Victoria Pelletier, the "turnaround queen," unveil the secrets behind exceptional companies with unstoppable CX leadership.
Show topics include:
Refocusing your team on what truly matters to customers, employees, and shareholders
Eliminating excuses and engaging your invaluable call center agents
The impact of diversity across the workforce, vendors/partners, and products/services
Ensuring equity for all personas and journey maps with real examples
Going beyond a simple survey to create a multifaceted customer experience
The relationship between brand reputation and employee experience
The role of technology in enhancing customer experience
Strategies for recovering from mistakes and building customer trust
The importance of being a heart-centered leader
Addressing short-term thinking and behavior in B2B transactions
Building authenticity and transparency to foster trust with employees
About Victoria Pelletier ~ Unstoppable CX Leadership
"Overcoming adversity and trauma at an early age built resilience. A trait that has remained with me throughout my life and has helped me excel as a corporate executive, mentor, and leader — for which I am often characterized as dynamic and unstoppable.
My motto is to do the right thing; in creating value for others, focusing on the big picture and what matters most in being accountable to stakeholders including employees, shareholders and our communities. It also means surrounding myself with diverse teams, skills, experience and points-of-view to continually grow, adapt and achieve desired outcomes while making and leaving a positive impact — whether it be as a leader, peer, community member, friend, partner or mother.
As someone who does not subscribe to the status quo, I'm always ready for new challenges. I became one of the youngest Chief Operating Officers at the age of 24. Being unstoppable, I was a President by 35 and a CEO by age 41.
Having extensive experience in managing operations for companies undergoing periods of intense and transformational change. Being involved in 18 M&A transactions across my career, I've successfully re-engineered organizational structures, operations, processes and technology to achieve or exceed revenue and growth targets resulting in greater synergies and multi-millions of dollars in cost savings.
Recognized as a one of the 2023 Women of Influence by South Florida Business Journal, 2022 Top 30 Most Influential Business Leaders in Tech by CIOLook, 2022 Most Influential Entrepreneur of the Year by World Magazine, 2021's Top 50 Business Leader in Technology by Insight Magazine and a Mentor of the Year by Women in Communications & Technology in 2020. HSBC bank awarded me the Diversity & Inclusion in Innovation award in 2019.
As an in-demand professional keynote speaker, I frequently provide motivational and inspirational talks helping to instill confidence in others, I deliver keynotes on building resilience as well as the importance of personal branding and networking and their impact on professional growth, being an empathetic leader to empower employees and the power of DEI in transforming corporate cultures.
About Stacy Sherman: Founder of Doing CX Right®‬
Customer experience and marketing global keynote speaker, journalist, co-author of two books, coach and host of the award-winning DoingCXRight podcast. Known for her Heart & Science™ framework that produces profitable clients and brand loyalty–fueled by an empowered workforce. Stacy's been walking the talk for 25 years as a strategist and practitioner at companies of all sizes and industries, i.e., Liveops, Verizon, Schindler Elevator Corp, Wilton Brands, and AT&T. She's also a board advisor at multiple universities, featured in Forbes and other top-rated publications. Her Why/ Mission: Cultivating meaningful, authentic relationships and experiences so people have more fulfillment in business and life. Contact Stacy for DOING CX RIGHT, not just TALKING about it. Continue reading bio >here.
Key words – themes: customer experience,  customer complaints, employee well-being,  leadership, customer service, relationship building,  employee engagement, CX, diversity equity inclusion, contact center