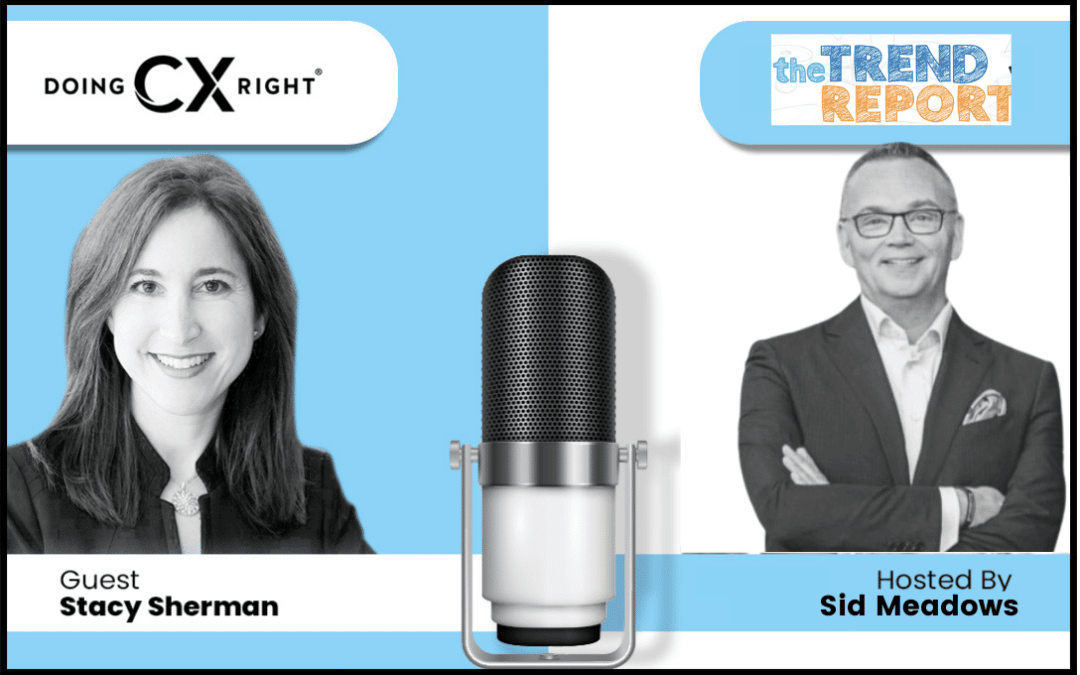 No matter what industry you work in, doing customer experience right is essential to business success. I had an opportunity to speak to Sid Meadows, host of The Trend Report Podcast, about best practices for people working in the interior design business. Our conversations were informative and fun. I hope you'll listen to our conversations as there's a lot of great takeaways to differentiate brands of all sizes.
Customer experience is not the same thing as customer service. While you need to have great customer service, customer experience goes even deeper. Here to share her thoughts on creating an outstanding customer experience is Stacy Sherman with Doing CX Right.
Stacy is on a mission to help brands delight customers, meet their needs and create superior experiences that build, not just relationships, but lasting connections. She has created an entire framework to help her clients assess their current systems across departments, find the gaps, and create practices that every employee can share.
More than simply helping her clients to build customer loyalty through great customer experience, she is also dedicated to her own ongoing learning. Most brands and employees of brands are coming into contact with people from all walks of life. To properly serve and delight those customers, they need to understand their values, culture, and needs.
Listen as she shares more about her processes, why she's so passionate about this topic, and how you can get in touch to upgrade your customer experience. She also has her own podcast, Doing CX Right where she shares information, tips, and tricks for brands at every level.

Customer Experience Podcast Summary:
[02:00] Welcome to the show, Stacy!
[02:20] Who she is and what she does.
[03:09] Listen as Stacy defines what customer experience means.
[05:10] Why customers don't buy on price alone. It's an experience which is why it's important to understand what customer experience is.
[06:42] What she means by an unexpected experience that makes you love a brand.
[09:15] Stacy believes that the customer experience is in your control.
[10:02] You create a customer journey map by walking in the customer's shoes and then you see what your customers are experiencing.
[13:13] The more diversity has a place in your business, the more your employees will want to go above and beyond, even when the boss isn't looking.
[15:20] Why CX is so important.
[20:59] Her connection to the furniture industry.
[23:59] We discuss Clubhouse and what she feels about it.
[27:50] Sid talks about finding his people on Real Talk Podcasting.
[29:35] Traditional selling is dead and relationship making is real and it's happening.
[32:52] My take away is if you don't have a CX strategy, build one.
[35:42] Thank you for being on the show!
Connect with Stacy:
Stacy on LinkedIn
Stacy on Twitter
Stacy on Instagram
Stacy on YouTube
Connect with Sid:
Embark CCT on Facebook
Sid on LinkedIn
Sid on Instagram
Sid on YouTube
Sid on Clubhouse – @sidmeadows