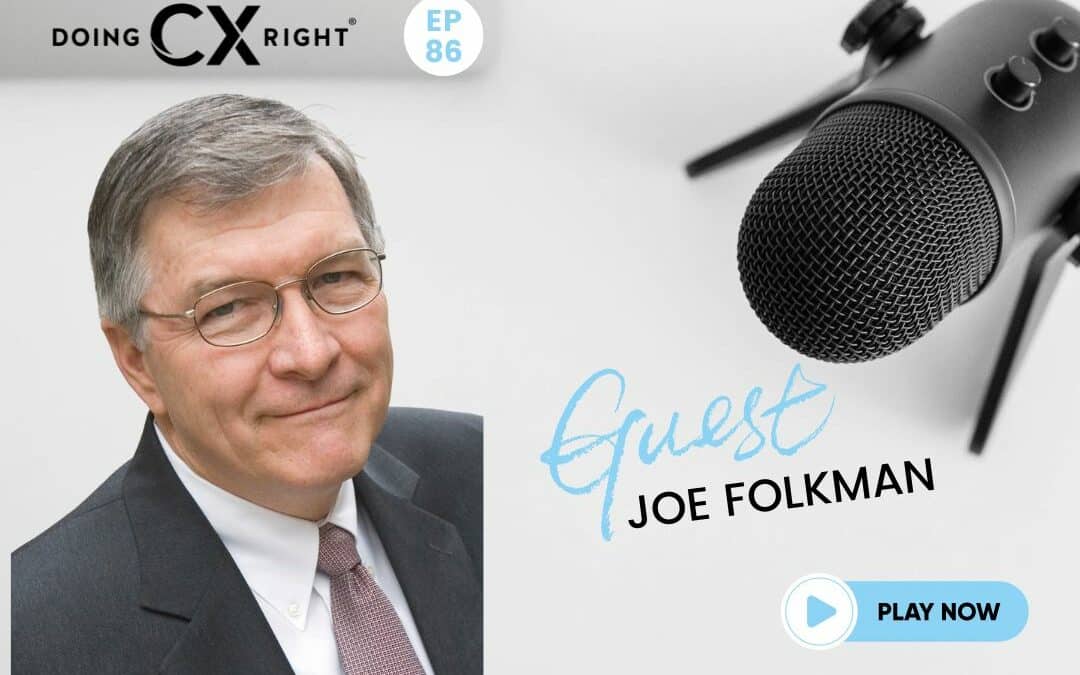 Press Play ▶️ To LISTEN To Podcast
Are you a business leader seeking better ways to retain customers fueled by trusted employees? Are you struggling to create a culture of trust in your business?
Host Stacy Sherman and Joe Folkman, award-winning author and leadership expert, explain how to achieve goals based on three pillars of the "Trust Trifecta."
You'll hear helpful insights on cultivating strong relationships and repairing trust when it's been broken. Without trust, there's no way to build strong teams, meaningful communications, positive work environments, and healthy relationships. So, take notes and apply the proven tactics to improve your trust-building skills for better outcomes in business and life.
Topics Discussed About Getting & Keeping Trust:
Why Passion for Trust [00:03:28]
Joe Folkman explains his passion for leadership and trust and how assessments can help individuals understand their effectiveness as leaders.
What Is The Trust Trifecta [00:05:10]
Joe discusses his book, which outlines the three pillars of trust: relationships, technical competence, and consistency. He also touches on the impact of technology on trust and customer experience.
Importance of Relationships [00:10:04]
They discuss why it matters and essential strategies to differentiate your brand.
Measuring Trust [00:13:32]
They explain how trust is measured and what to be cautious about.
Repairing Trust [00:16:58]
You'll hear recommendations on what to do when trust is broken and how to get it back and rebuild relationships with customers, employees, partners, etc.
Perception and Leadership [00:27:51] The importance of understanding others' perceptions of your leadership and using it to evaluate your effectiveness.
Differentiation in Business [00:25:08] The significance of standing out in a few critical areas rather than striving for perfection in all aspects of business.
Advice to Younger Self [00:32:30] Joe shares what he'd tell in 20-year-old self if he could go back in time that serve as a lesson for all of us.
Press Play ▶️ To WATCH On Youtube
About Joe Folkman: Trifecta Of Trust
Joe Folkman is co-founder and President of Zenger Folkman, a firm specializing in leadership and organizational development. He is a highly acclaimed keynote speaker at conferences and seminars the world over. His topics focus on a variety of subjects related to leadership, feedback, and individual and organizational change. As one of the nation's renowned psychometricians, his extensive expertise focuses on survey research and change management. He has over 30 years of experience consulting with some of the world's most prestigious and successful organizations, public and private. A distinguished expert in the field of measurement, his unique surveys and assessments are designed utilizing a database comprised of over a million assessments on over 110,000 leaders. Because these tools specifically address critical business results, facilitating development and change is the main focus of measurement efforts.
Joe has had engagements with clients such as AT&T, Celgene, General Motors, General Mills, Reed-Elsevier, Invesco, Wells Fargo, MUFG and Yale University. The diversity of industries and business models has provided him with a powerful learning opportunity and an exceptional research base. Joe's research has been published in several publications including The Harvard Business Review, Forbes, The Wall Street Journal's National Business Employment Weekly, Training and Development Magazine, and Talent Quarterly. In 2021 he was honored with ATD's Distinguished Contribution to Talent Development award which recognizes an individual who has made an exceptional contribution to the talent development field that has had sustained impact. Prior to forming Zenger Folkman, Joe was a founding partner of Novations Group, Inc. where he led the employee surveyand 360-degree assessment practice. Joe holds a doctorate degree in Social and Organizational Psychology, as well as a master's degree in Organizational Behavior from Brigham Young University.
About Stacy Sherman: Founder of Doing CX Right®‬
Customer experience and marketing global keynote speaker, journalist, co-author of two books, coach and host of the award-winning DoingCXRight podcast. Known for her Heart & Science™ framework that produces profitable clients and brand loyalty–fueled by an empowered workforce. Stacy's been walking the talk for 25 years as a strategist and practitioner at companies of all sizes and industries, i.e., Liveops, Verizon, Schindler Elevator Corp, Wilton Brands, and AT&T. She's also a board advisor at multiple universities, featured in Forbes and other top-rated publications. Her Why/ Mission: Cultivating meaningful, authentic relationships and experiences so people have more fulfillment in business and life. Contact Stacy for DOING CX RIGHT, not just TALKING about it. Continue reading bio >here.