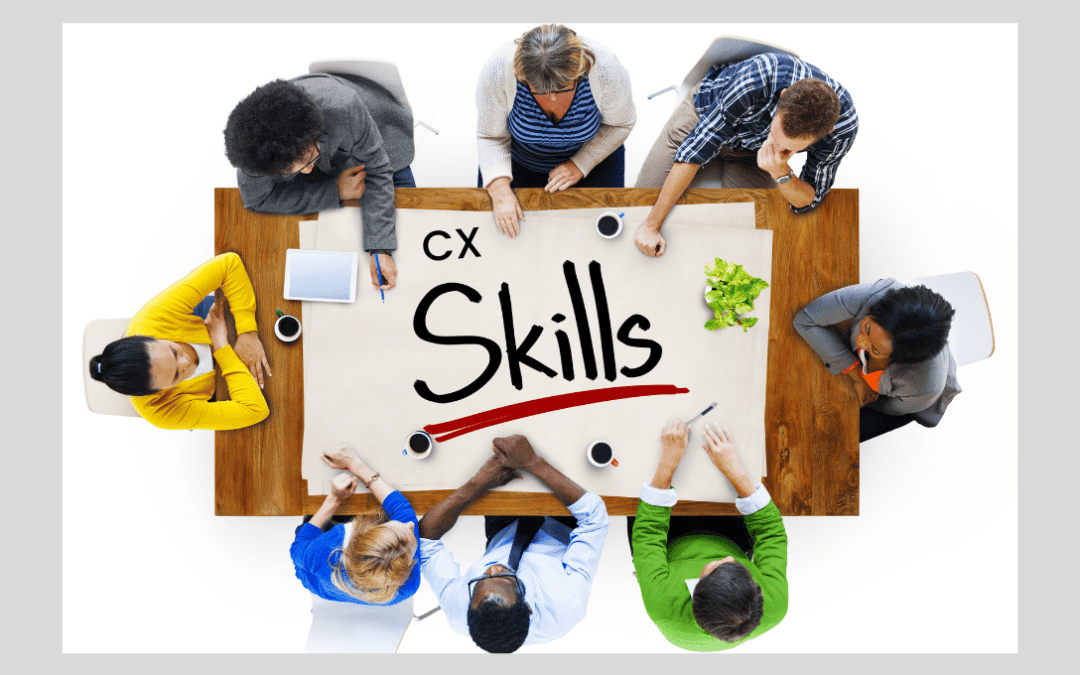 What skills are needed to succeed in Customer Experience (CX)? A panel of professionals, including me, share our views about what is most valuable so that you can elevate your knowledge, gain Executive buy-in and hire the right people. 
I encourage you to get educated and build your CX skills as offered online at various universities.
The following article was originally posted on MyCustomer by Neil Davey. 
It is apparent that being able to build and sell a customer experience business case needs to be one of the core competencies for a CX leader. So with that in mind, we asked a group of CX leaders for their advice about the kinds of skills that customer experience professionals should focus on developing to support them in their efforts to keep their CX programs supported, valued, and funded.
What skills do CX managers deem to be of most importance?
1. Data, insight, and measurement skills
"If you don't know the metrics or detail that is likely to turn heads and win support then your business case is liable to fail," warns Iain O'Connor, senior manager for customer experience and insight at Aegon UK.
Collecting data, interpreting data, presenting data, and driving action from that data are all core skills required of today's customer experience leaders. And nowhere is this more important than when it comes to selling your business case.
"Data savviness is essential," emphasizes Stacy Sherman, Director of the customer experience & employee engagement at Schindler Elevator Corporation and founder of DoingCXRight®‬. "You're more likely to gain executive support when including facts and figures to support your request for resources (time, money, human resources)."
Having the ability to define key success metrics and set performance goals, and then continually monitor KPIs, is crucial for customer experience managers. But it is made more difficult by the fact that there are so many metrics for them to consider.
To provide some steer, ContactBabel's Steve Morrell surveyed customer experience leaders to find out what methods and metrics are most commonly being measured. Read his piece: The top CX measurement techniques – as ranked by CX leaders.
Elsewhere, Jim Tincher has provided a very useful list of CX metrics that deliver valuable insight. Read his piece: 10 customer experience KPIs that provide better insight than NPS.  Learn more also from Stacy Sherman about CX measurement.
Nina Jones, head of the advisor experience at Fidelity International, recommends that if you're not particularly data-minded yourself, you should ally yourself with those within the organization that can provide that specialist support, while you develop those talents.
"I personally could not work my way around the detailed spreadsheet formulas if my life depended on it, but I always know the people who can in the organization and I know the problem I am looking to solve," she says. "The customer experience team's role is to put the customer/business problem on the table and help data teams come to conclusions to test out hypotheses."
2. Communication skills
Excellent communication skills are regarded as a key skill amongst many of the CX managers we spoke with. Of course, communication is vital for CX leaders in their day-to-day work – as the head of the organization's customer experience program you'll not only need to galvanize and engage your own team but also inspire the entire organization to commit to a culture of customer-centricity.
But there's no escaping the fact that communication skills are absolutely crucial to persuading any CX skeptics in the boardroom that your program is worth not only supporting but championing. And part of this is ensuring that you provide the right context.
Nina Jones emphasizes that CX leaders have access to an incredibly powerful message – they just need to ensure that they articulate it properly. This means not treating the CX program as something that operates in isolation but explaining how the organization and everyone in it are contributing to the customer experience.
She explains: "It is really important to understand that a customer experience team has a unique view of both the customer and the organization that no one else in the organization has! Therefore, the opportunity the customer experience team has, being the only function in the organization which sees both the customer and the organization, is uniquely powerful if harnessed in the right way!"
"Communication is vital," agrees Iain O'Connor. "It's important to have an ongoing two-way dialogue with senior leaders to understand how your proposal fits with business strategy and how to best position your CX ideas to give your business case the best chance of success.
He advises: "Different leaders can also have very different styles, so learn how senior leadership likes to see business cases presented and speak to others in your business who have successfully influenced the same audience in the past."
While it's easy to assume that communication skills are something that you're just born with, many of the greatest communicators in the business world have worked long and hard to develop their talents – and you should too.
For that reason, MyCustomer published an article dedicated to the art of communication, sharing advice from a range of experts on how to become a better communicator, including models to help professionals develop their listening skills and self-confidence.
3. Financial/commercial understanding
Part of good communication is translating your message into a language that the different members of the board will understand. But there is one common language shared by all of those at the top table – finance.
"What I have found personally to be most effective is developing a more commercial understanding of the business alongside proficiency at data analytics and insight," says Charlotte Dunsterville, chief consumer officer at Sure. "These go hand-in-hand as the data can and should be used to show a tangible and measurable approach to CX investment.
"I've also found that building a solid relationship with the CFO has paid dividends, as he has increased his understanding of the importance of CX to driving the business. I have understood the financial challenges better and learned how to present a case for investment that addresses both customer and financial angles. After all, customer experience people are by nature empathetic, so as we always do for customers it's been a case of putting myself in someone else's shoes internally and understanding their challenges."
To give you an idea of the kinds of areas that it would be good to develop your understanding in, Peter Dorrington, founder of XMPlify Consulting has outlined the key commercial points that CX leaders need to bake into a business case for it to be successful.
Make a sound financial case – Use terms that business leaders are familiar with. Whilst essential, a positive ROI on its own is not enough
Quantify the benefits – Calculate the incremental benefits that a good CX program brings, in both the short- and the long-term.
Allocate true costs – 'Average' is not your friend: identify where costs are actually being incurred and how your CX program impacts them.
4. Relationship-building skills
"Whether you are promoting a product, service or new idea that changes a company culture to be more customer-centric, strong relationships skills are imperative," says Stacy Sherman. "Leaders are more likely to say yes and adopt recommendations from people they like and trust."
Another skill that is not just valuable for building the CX business case, but in the day-to-day of a customer experience leader's role, the ability to build and maintain relationships with external stakeholders and internal cross-functional team members (services, sales, support, product development, QA, etc.), is invaluable.
"My personal reflection on this is that customer experience teams need to be really good at understanding the business and then being able to partner, partner, partner through building trust-based internal relationships," says Nina Jones.
"A beautiful vision can be built, the data can be there to back it up, but if the organization does not trust and have strong relationships with the customer experience teams, then selling any business case will be limited in impact. Most of the time the customer experience team is asking the organization to change what they are doing, and in some cases, this change also comes with a cost. "Therefore, to encourage the c-suite that they want to make the change and carve out the budget, there needs to be trust and confidence in the team that are going to lead this change through."
She continues: "I realize that I am basically selling internal change programs (teams need to change to produce better customer outcomes!), through building trusted relationships and then long-term partnering with internal stakeholders pretty much every working day! Some of the teams which need to change I have direct control over (this is the easier bit); others, I have no control over, so they need to build trust in me and my team and then be convinced. My mantra has always been that the customer experience team basically 'owns everything and owns nothing'!"
Keith Gait, leader at The Customer Experience Foundation, and former customer services director at Stagecoach Bus, also notes that relationship-building across the organization not only helps to demonstrate the value of CX to others in the business, but it also allows customer experience professionals to gain a greater understanding and appreciation of other parts of the organization.
"We all have to develop greater awareness, understanding, and appreciation of the other functional areas of the business. They have to work together, we can't just do CX in isolation," he notes.
"The most successful people in the boardroom have a broad outlook, not a narrow functional mindset. This is how I believe CX leaders can best achieve the goals they say they want their companies to achieve. Be as interested in finance as the CFO, support the HRD on the development of the people strategy, make friends with the IT director, have an awareness of the Strategic challenges facing the organizations, and be seen as an influencing voice shaping that future. Do not sit in your CX bunker expecting everyone to come to you."
MyCustomer has published an entire series on improving collaboration between customer-facing teams, so that's a great starting point.
In addition to this, we have also written a piece sharing advice on how CX leaders can become better at all-around relation-building, and in particular building those all-important relationships within the organization, including how to develop trust and become more emotionally intelligent.
5. Resilience and determination
"Lastly, don't be afraid to fail," advises O'Connor. "As long as you take away the learnings and feedback you can use unsuccessful attempts to ensure you're much more likely to succeed next time."
Nina Jones adds: "Tenacity and resilience are almost non-negotiable skills for someone who cares about customer experience – as there is a lot to keep working through!"
Read more

about how to get leadership buy-in to invest in CX resources and tools to deliver customer excellence.
Learn more about Stacy Sherman's mentorship program to elevate your skills so that you are not talking but actually DOING CX RIGHT.