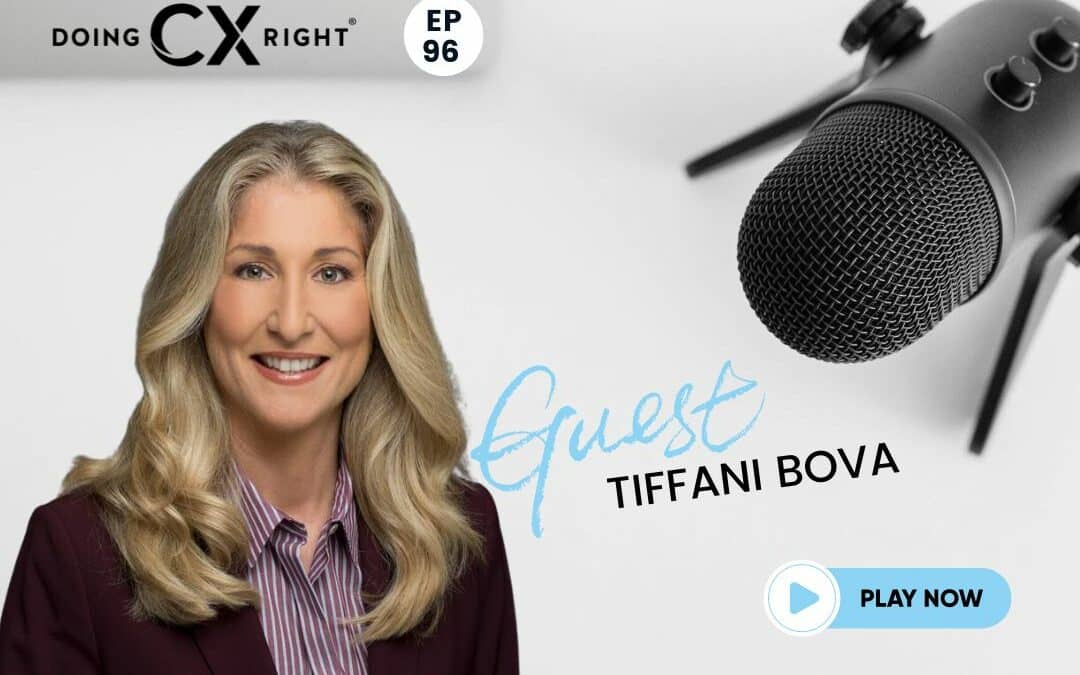 Imagine having a thriving organization where your employees are as satisfied as your customers – sounds perfect, doesn't it? Well, it begins with leaders having the right experience mindset.
In this podcast episode, Doing CX Right host Stacy Sherman sits down with Tiffani Bova, Global Customer Growth and Innovation Evangelist at Salesforce, to discuss the secret formula of high-performing organizations and the employee-customer experience balance as explained in Tiffani's new "Experience Mindset" book.
Key Points:
The Experience Mindset: Tiffani emphasizes the importance of every touchpoint a company has with a customer in shaping their overall experience. She introduces the concept of 'experience mindset', urging decision-makers to consider the implications of their decisions on employees.
The Importance of Customer Experience: Tiffani shares a Salesforce study that reveals 88% of customers feel the experience they have with a brand is as important as the products and services they sell. She predicts this percentage will eventually reach 100%.
The Role of Technology in Customer Experience: You'll hear about how the changes in digital engagement between brands and their customers are won or lost on the experience they had. This led to the creation of roles like the chief customer experience officer and chief customer officer, who focus on improving customer experience through technology.
The Unintended Consequence of Over-Pivoting to Customer Experience: While companies have made significant investments in technology to improve customer experience, they have unintentionally increased the effort for employees, thereby decreasing their experience.
The Importance of Employee Experience: You'll hear about a common misconception that the responsibility of managing the employee experience falls solely on HR. Stacy and Tiffani emphasize that it's the employees, not the chief officers, who deliver the customer experience and should therefore be equipped and trained accordingly.
Advice for CX Professionals: Stacy and Tiffani share advice for those who are new to the CX world and who are more advanced. They recommends spending time with employees just like you would with customers and advises maintaining a beginner's mindset and challenging assumptions about the business.
Advice to Younger Self: Reflecting on her early career as a high-performing sales rep, Tiffani admits to what she did well and what she'd change based on what she knows now and didn't realize then. 
Listen to entire  episode for more details about gaining a competitive edge through an "Experience Mindset."
Press Play  To WATCH On Youtube
About Tiffani Bova:  
Tiffani Bova is the global customer growth and innovation evangelist at Salesforce, and the Wall Street Journal bestselling author of Growth IQ. Over the past two decades, she has led large revenue-producing divisions at businesses ranging from start-ups to the Fortune 500. As a Research Fellow at Gartner, her cutting-edge insights helped Microsoft, Cisco, Salesforce, Hewlett-Packard, IBM, Oracle, SAP, AT&T, Dell, Amazon-AWS, and other prominent companies expand their market share and grow their revenues. She has been named one of the Top 50 business thinkers in the world by Thinkers50 twice. She is also the host of the podcast What's Next! with Tiffani Bova.
Learn more: tiffanibova.com.
Check out her newest book "The Experience Mindset" on Amazon.
About Stacy Sherman: Founder of Doing CX Right®‬
Customer experience and marketing global keynote speaker, journalist, co-author of two books, advisor, and host of the award-winning DoingCXRight podcast. Known for her Heart & Science™ framework that helps you gain profitable clients and brand loyalty–fueled by an empowered workforce. Stacy's been walking the talk for 25 years as a strategist and practitioner at companies of all sizes and industries, i.e., Liveops, Verizon, Schindler Elevator Corp, Wilton Brands, and AT&T. She's also a board advisor at multiple universities, featured in Forbes and other top-rated publications.
Her Why: To cultivate loyal relationships and meaningful experiences that enrich people's lives. Contact Stacy abut DOING CX RIGHT, not just TALKING about it. Continue reading bio >here.
Keyword themes: Tiffany Bova, Salesforce, sales transformation, go to market models, digital impact, technology, sales, marketing, customer service, customer success, startups, customer experience, contact center, employee experience