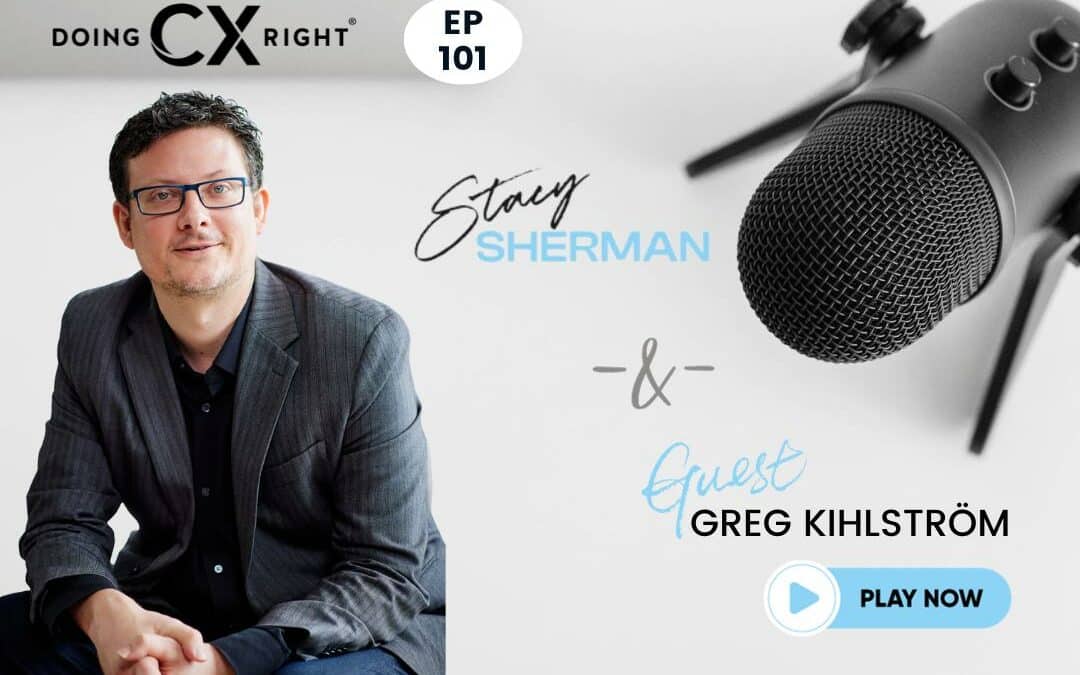 Feeling Stuck Balancing Customer Personalization and Data Privacy?
It's a dilemma many face: how to offer tailored customer experiences without crossing data privacy boundaries. In this episode, you'll hear customer service experts Stacy Sherman and author Greg Kihlström as they unravel this complex issue of data compliance and Customer service excellence.
Gain Actionable Insights from "House of the Customer"
This Doing CX Right Podcast episode will help you  acquire practical and tested strategies from Greg's acclaimed book, "House of the Customer." Learn how to build a business that respects customer data privacy yet doesn't compromise on delivering exceptional customer experiences.
With the insights shared, you'll be able to solve current personalization and data privacy challenges and pave the way for your brand to emerge as a trusted and respected frontrunner in the industry.
Show Topics and Customer Experience (CX) Takeaways: 
Greg's background in marketing led him to explore customer service and its intersection with technology, including consumer data privacy.

The seven principles of the "House of the Customer" include processes and systems (roof), business objectives and outcomes (walls), and the agile customer-centric culture (foundation), as well as understanding, serving, and listening to customers (pillars).

Involving employees in the CX process is essential as the relationship between happy employees and satisfied customers is closely linked.

Personalization and customer data privacy are important in modern marketing, and finding the right balance is crucial.

Brands need to be transparent about their customer data usage and ensure that the data collected is relevant to the personalized content and offers provided.

Feedback is a gift; leaders must embrace it for personal and professional growth.

Start small, embrace a culture of experimentation, and learn from experiences to achieve CX success.

Greg is optimistic about AI technology and believes that as it evolves, humanity will catch up to its challenges.

Greg would emphasize the value of continuous learning and research to his younger self if he could go back in time.
Press Play  To WATCH On Youtube
About Greg Kihlstorm:  
An author, speaker, and entrepreneur known for his expertise in marketing technology and customer experience. A two-time CEO, he has successfully spearheaded and sold ventures to industry leaders. He has collaborated with global brands such as Adidas and Coca-Cola and serves as a faculty member at the Association of National Advertisers.
An Agile Certified Coach and prolific writer, Kihlström is the brain behind the best-selling book "House of the Customer" and the popular podcast "The Agile Brand with Greg Kihlström". Recognized as a top thought leader by Thinkers 360, he is a frequent contributor to renowned publications and a sought-after speaker at global industry events.
Learn more on his website
About Stacy Sherman: Founder of Doing CX Right®‬
Customer experience and marketing global keynote speaker, journalist, co-author of two books, advisor, and host of the award-winning DoingCXRight podcast. Known for her Heart & Science™ framework that helps you gain profitable clients and brand loyalty–fueled by an empowered workforce. Stacy's been walking the talk for 25 years as a strategist and practitioner at companies of all sizes and industries, i.e., Liveops, Verizon, Schindler Elevator Corp, Wilton Brands, and AT&T. She's also a board advisor at multiple universities, featured in Forbes and other top-rated publications.
Her Why: To cultivate loyal relationships and meaningful experiences that enrich people's lives. Contact Stacy for DOING Customer Experience (CX) and Service Right, not just TALKING about it. Continue reading bio >here.
Keyword themes: #DoingCXRight #podcastbusiness #customerservice #contactcenter #dataprivacy #compliance #datasecurity #customerdata #consumerdata #marketing