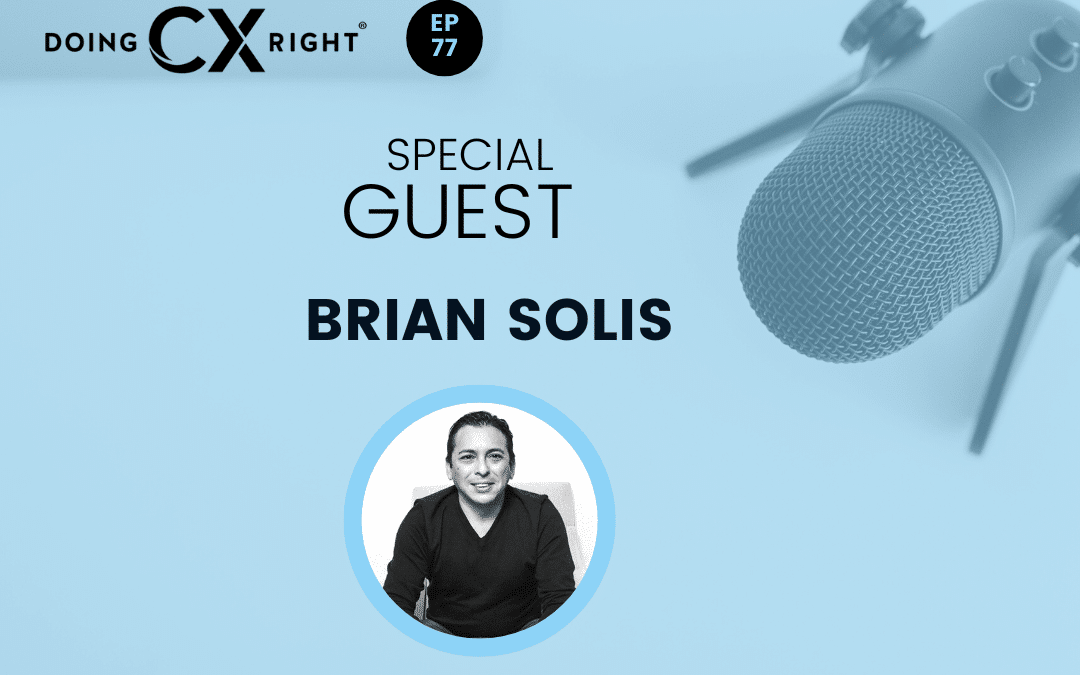 Looking to gain insight into the world of AI technology, innovation, and digital transformation? Then you've come to the right place.
On this episode, you'll learn actionable tips from Stacy Sherman and Brian Solis, world-renowned digital anthropologist, futurist, 8x best-selling author, speaker, and VP of Global Innovation at Salesforce. They share tactics for leveraging AI and related tech without losing the human element. And how to build better relationships, experiences, and business models, emphasizing the importance of companies adopting a customer-centric approach to CX.
They also discuss the future of work and the trends that businesses need to consider, including web three, blockchain, virtual worlds or metaverse, immersive shopping and entertainment, and the impact of AI on the workplace.
You'll also hear insights from Brian's latest book, Life Scale, which provides a roadmap for people to recenter their lives for the new world while embracing technology.
More Topics Discussed:
Who is Brian Solis and a fun fact.

Why passionate about digital transformation and AI.

Lessons from his book "What's the Future of Business" and how businesses can adapt and thrive in a rapidly changing landscape.
Ways ChatGPT and how artificial intelligence is rapidly changing the way we work.
Tactics that AI is being deployed to improve customer service experiences and risk considerations.
Advice to foster more creativity, focus, and better time management.
Most valuable leadership advice received and given.
And more
Press Play ▶️ To LISTEN To Podcast
Press Play ▶️ To WATCH On YouTube
About Brian Solis
A world-renowned digital anthropologist, futurist, 8x best-selling author, and international keynote speaker. Brian serves as VP, Global Innovation at Salesforce. He has consistently been recognized as one of the world's leading voices in innovation, business transformation, and leadership for over two decades.
Forbes has called him "one of the more creative and brilliant business minds of our time," ZDNet said that Brian is "one of the 21st century business world's leading thinkers," and The Conference Board described Brian as "the futurist we all need now."
As a keynote speaker, Brian has traveled the world to help audiences embrace change, learn what's coming next and why, and to take a leading role in shaping the future they want to see. He has a unique gift of humanizing these trends to make change and innovation purposeful and inspiring to help leaders reimagine the future.
Brian's latest book, Lifescale: How to Live a More Creative, Productive, and Happy Life, is a research-based (and personal) journey to discover the effects of digital in our lives and learn how to rewire ourselves forward with greater purpose, creativity, and performance.
Readers learn how to "Lifescale," take control of technology, define a more creative and aspirational future self and scale their lives forward and upward.
Learn more and connect with Brian on LinkedIn.
About Stacy Sherman: Founder of Doing CX Right®‬
An award-winning certified marketing and customer experience (CX) corporate executive, speaker, author, and podcaster, known for DoingCXRight®. She created a Heart & Science™ framework that accelerates customer loyalty, referrals, and revenue, fueled by engaged employees and customer service representatives. Stacy's been in the trenches improving experiences as a brand differentiator for 20+ years, working at companies of all sizes and industries, like Liveops, Schindler elevator, Verizon, Martha Steward Craft, AT&T++.   Stacy is on a mission to help people DOING, not just TALKING about CX, so real human connections & happiness exist. Continue reading bio >here.