The new year has arrived. Holiday gift-giving is officially over. Like other families, mine is enjoying their presents – especially the electronic ones. While purchasing new devices and setting them up has gone smoothly, obtaining help to address product questions has been easy in some cases and frustrating in others. No matter how much I love a product, if getting help requires a high level of effort, I often return the item and tell friends to shop elsewhere.
I'm not alone in my thinking. Consider the research. "94% of customers going through an effortless experience are likely to repurchase vs. only 4% of those who went through a high level of effort. 81% of customers going through a high level of effort are likely to share their bad experience with friends vs. only 1% of those who went through an effortless experience."(Gartner, 2018)
Map the Path to Customer Support
For this reason, I continue to stress the importance of customer journeys and how companies must measure and optimize every single touchpoint (also known as "moments of truth"). Whenever I am doing Journey Mapping, I spend extra time on the "Get Help" experience. This truly can make or break a company's image and reoccurring sales.
Deliver Customer Support the Right Way
Let's look at some bad customer support examples and the lessons they provide. Today, we focus on one channel: Online Live Chat. This can be a huge brand differentiator when it is done right.
Example 1
A company offers online chat for people to get help. But the company makes them wait a long time for a response.
As shown below, I tried to connect to an online chat agent to get a fast answer. On the contrary, my wait time was 37 minutes. I was #115 in line.
This did not meet my customer expectation. I disconnected immediately.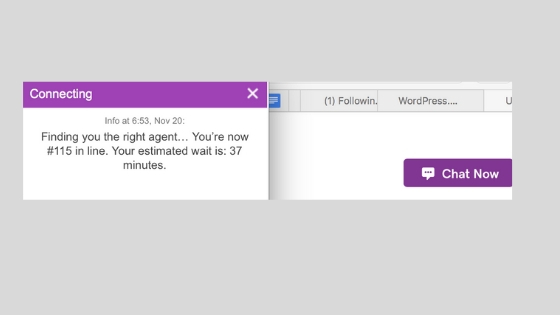 Key Lessons:
Contact Centers must be staffed correctly, especially during holiday seasons.
Chat functionality should be turned off during hours when the Contact Center is understaffed.
Consider leveraging chatbots in some cases. There are pros and cons in doing so.
Example 2
Unlike the first example, the online chat agent, in this case, is available in a short amount of time. However, the representative is unable to answer my question.
I spent a few minutes reexplaining my concern and asking for specific help I needed. Instead of a resolution, I was advised to "disconnect and establish a new chat." That made no sense. I was even less satisfied than I had been before I reached out for support.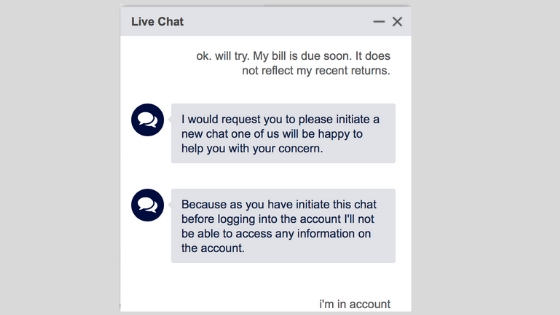 Key Lessons:
Educate and continue training Contact Center representatives on all products.
Build Contact Center customer experience skills. I recommend university-based certification programs. Contact me for info & 20% discount offer that I used.
Create back-end processes to handle situations when customer questions are not easy to answer in real-time. This applies to online Live Chat as well as company call centers. Learn more about "3 Call Center Mistakes You Are Making."
Example 3
The company offers online Live Chat but makes it difficult to access help on their website. As the image shows, the individual is frustrated after having first called the Customer Care Center with no success reaching a person for 45 minutes.
The customer proceeded to go online to engage in "live chat" for faster support, but could not find the button to initiate a conversation with an agent.
That is a second disappointing experience for the same customer in one day. That should never happen.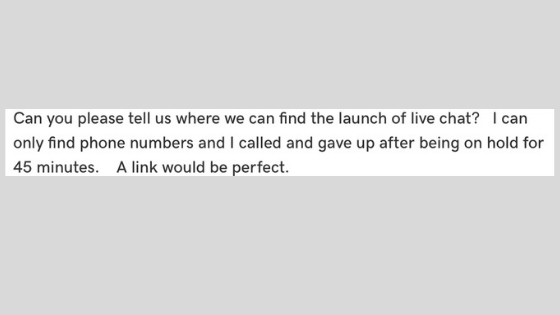 Key Lessons:
Focus on website usability, accessibility, and efficiency of user interactions.
Continue to optimize sites applying User Experience (UX/ UI) principles and best practices. If you are interested in learning more about this topic, you may find "Top 100 UX Designs" by Andrew Kucheriavy to be a great resource.
Apply website usability practices to mobile as well as desktop. Read WHY Mobile is a critical factor in winning customer experience.
Stay tuned for my next article as I share more about the topic of CUSTOMER FRICTION, featuring Shep Hyken, who explains how to avoid CX mistakes.
If you like this article, please share and follow DoingCXRight on Twitter to get timely updates.
Sign Up for our newsletter to continue learning how to increase your skills and transform your organization. When you register now, you get free access to our whitepaper on how to go from CX Novice to CX Expert.
*All views expressed are Stacys and do not reflect the opinions of or imply the endorsement of employers or other organizations.